[ #1: Three Lens Cases Ready to be Recycled ]
In my prior article titled, Camera Bag Versatility, I explained how I use lens cases to stow most of my lenses and some smaller gear items. As time passes, we face gear upgrades and letting go of gear we ended up not using enough to justify keeping. Well when this happens to me, I like to recycle my lens cases when I can. I use a very simple method that works for me and may work for you. Below is the former case for my Fujifilm 23/2 lens that became available when I passed the lens on to another photographer because I found I never used it.

[ #2: Recycling a Small Lens Case ]
As you can see this process is simple. I use the same marker type for the initial labeling of the case, which is a Sharpie Silver Metallic Permanent Marker. I drew a rectangle around the "23" and then filled it in. I let it dry for about fifteen minutes and colored it in again and called it done. When I use this case again, I simply use a dark-colored permanent Sharpie and write in the rectangle as shown in image #1 (18-55).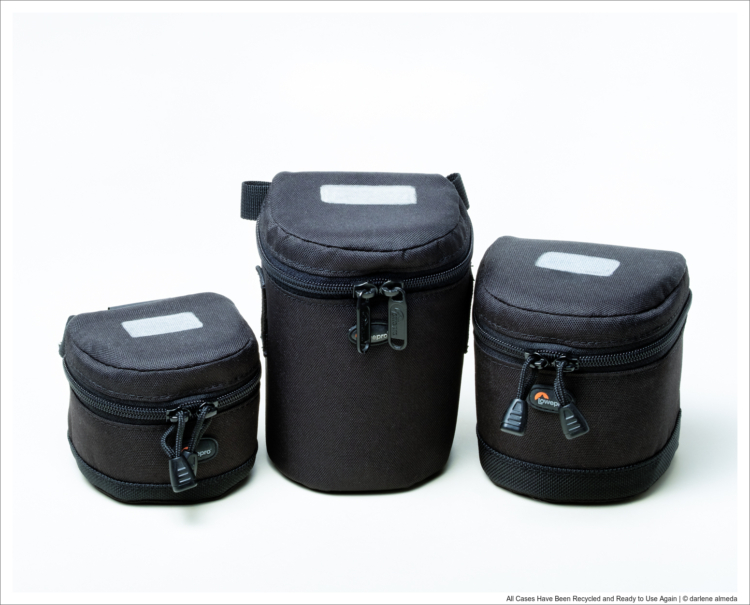 [ #3: All Cases Have Been Recycled and Ready to Use Again ]
All cases are recycled and ready to use again. The first case was the "23" case, the middle is an example of a zoom-lens recycled case, and the third is the recycled "18-55" in the first photo ready to use again. This process is simple and saves me money and time. Hope you found this article helpful!
UPDATE July 2021
I am now using this cloth tape on top of the previous marker info. It is very thin, strong, and can be easily removed. As soon as I can get to it, I will provide a photo.