[ ACRATECH PANO HEAD & LEVELING BASE + ACRATECH LEVELING BASE w/QR CLAMP + FOTOPRO E-6H ]
TRIPODS & COPY STANDS

[ YES ]
GITZO TRIPODS:
Pro Studex + R No.4 Head, GT1541T
REALLY RIGHT STUFF (RRS) TRIPODS:
 TVC-23, TQC-14, TFA-01
RIES TRIPODS:
J600 Backpacker with J250 Head
————————
ACRATECH: Panoramic Head
KIRK BALL HEAD: BH-1
RRS BALL HEADS: BH-55, BH-40, BH-30, BH-25
————————
ACRATECH LEVELING BASE: MPN 117 (3/8″ tripod thread, up to 25#), MPN 1134 (MPN 117 + QR Clamp)
MANFROTTO LEVELING HEAD: #338 (Bogen #3416)
RRS LEVELING BASE: TA-2U with Lever-Release Clamp
————————
FOTOPRO GIMBAL HEAD: E-6H Eagle Series
————————
ARKAY STUDIO STAND: Regal Mono
BESELER COPY STAND: CS Digital/Photo-Video
KAISER COPY STAND: RS 2-XA
Tripods are not cameras, but most of my cameras sit on a tripod when I shoot. It seems silly, not to mention the tripods I have used in the past and what I currently use. The best gear advice I was given in commercial photography school by an instructor was; to buy the most tripod you can afford, and you may never have to buy another. Guess what? Thirty-some years later, I still have the tripod I purchased for my first 4×5. It is an aluminum Gitzo Pro Studex with a Gitzo Rational No.4 Pan Tilt Head. It is heavy, but it has never let me down on hundreds of commercial jobs. I earned every scratch and bald spot on those legs!
The Ries wooden tripod was heavy and required more setup than I liked. But, I would never tell someone not to try them as they are very functional against vibration and are a quality product. Carbon fiber tripods have since replaced aluminum ones for me. They are lighter and just as strong. I recommend carbon fiber if you can afford it. One thing that has been a constant in my photography career is Gitzo and Really Right Stuff (RRS) for tripod and grip products.
###
CURRENT TRIPOD SETUPS:
Large/Medium Format: Acratech Panoramic Head with Leveling Base and RRS TVC-23 tripod
Medium/Small Format: Fotopro E-6H Gimbal Head with Acratech Leveling Base with Quick Release Clamp (ALBQRC) and ALBQRC alone on top RRS Series 1 tripod
Small Format: Gitzo GT1541T tripod with RRS BH-30
Pocket Tripod: RRS TFA-01 with RRS BH-25
Next, I will discuss these setups and why I choose to use them.
###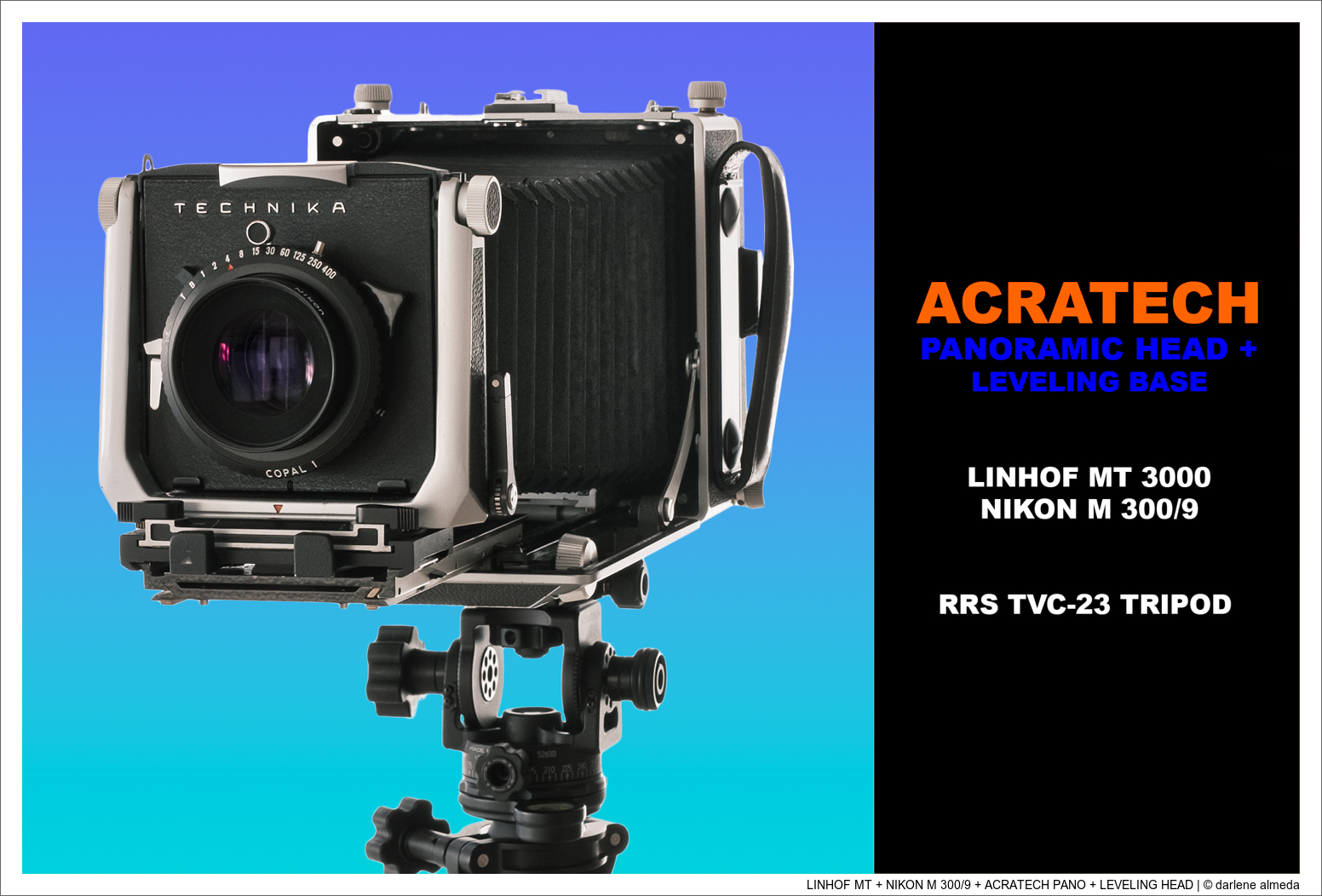 [ LINHOF MT + NIKON M 300/9 + ACRATECH PANO + LEVELING HEAD ]
ACRATECH PANORAMIC HEAD + LEVELING BASE
When I switched from using a ball head to a panoramic head with a leveling base that could handle my 4×5 but also be lightweight and precise, I went with the Acratech Panoramic Head and Leveling Base. I had used the RRS ball heads: BH-55 on a studio stand for many years and the BH-40 on the TVC-23 tripod for out-of-studio use with heavier panoramic and 4×5 cameras. The TVC-23 tripod has always been sufficient for my larger cameras, but I grew tired of ball heads with larger cameras.
Ball heads are great for use with my 4×5 and 6×17 pinhole and smaller cameras, and I continue to use the RRS BH-30 with Gitzo GT1541T legs when I shoot these cameras while traveling. But, when I need more precision control on a tripod with larger cameras, I do not want to use a ball head any longer. I do not care what a ball head manufacturer may publish on their product pages saying otherwise. I have over thirty years of experience shooting large cameras and multiple types of tripod heads; ball heads are NOT as precise as a head that offers accurate geared movement in three directions. The RRS BH55 ball heads I had were heavier than my current Acratech setup for large format, and the Acratech is much more precise.
After using the Acratech setup for the past year, I am delighted with its ease of operation and lighter weight. The price was within my budget once I sold off a couple of ball heads and replaced them with the Acratech setup. I have used ball heads for decades and believe they can be excellent tools, but now that I have returned to shooting more 4×5 out of the studio, I realized pretty quickly lugging around a giant ball head that never gave me the precision I was looking for had to go. This Acratech head and leveling base are perfect for general photography, not just for panoramic or long lens needs.
###

[ PANO-STITCHING GEAR + HASSELBLAD 907x ]
FOTOPRO EAGLE E-6H GIMBAL
The Fotopro Eagle E-6H Gimbal (E-6H) works well with the RRS TCQ-14 tripod and the Acratech Leveling Base with Quick Release Clamp. Before owning my current and second Ebony RSW 4×5 (RSW), I used the E-6H with an RRS Leveling Base TA-2U but switched to the Acratech with QR Clamp because I prefer a side knob over a collar when leveling the RSW.
The E-6H gimbal is lightweight and precise and allows stitching quickly and easily. The head shifts back, which makes it possible to put the lens nodal point directly on the tripod's pivot point. When rotating the camera for panoramic creation, having the nodal point directly over the tripod's pivot point places objects from one image to another in the correct alignment. Another great feature when stitching is adjusting the click stops on the panning scale. Features like these help to make guessing obsolete and precision easy for panoramic and stitching photography.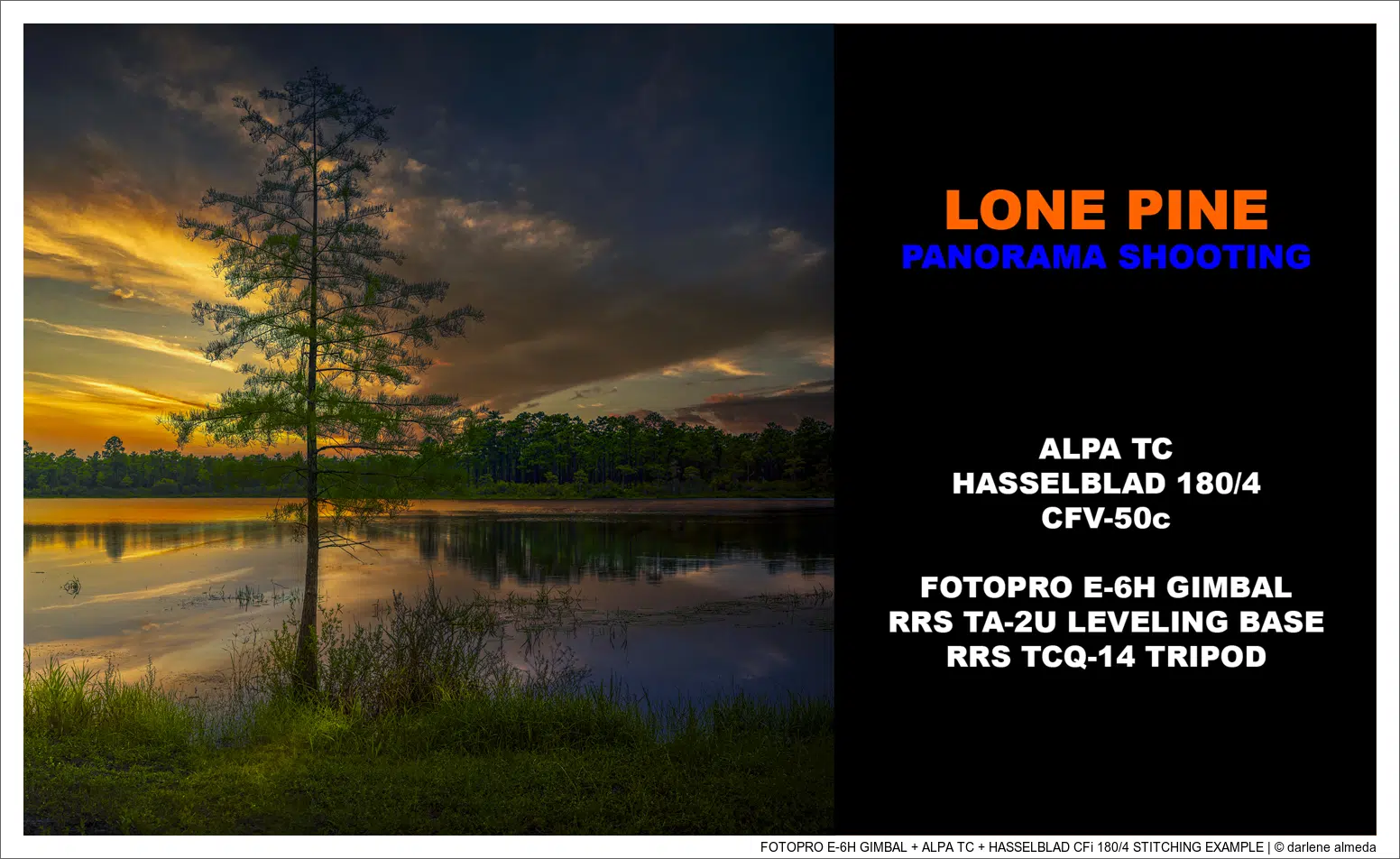 [ LONE PINE: FOTOPRO E-6H GIMBAL + ALPA TC + HASSELBLAD CFi 180/4 ]
– 6 FRAME SQUARE STITCH –
I was looking for a lightweight combination of a tripod, gimbal head, and leveling base and was able to piece these items together. The Fotopro Eagle E-6H is available in a kit with a tripod, which I am sure works very well, but I found a used E-6H Gimbal head without the tripod. The E-6H Gimbal with Acratech Leveling Base w/Quick Release (MPN 1134) and RRS TCQ-14 is my road warrior tripod, but I also use the TCQ-14 with the Acratech Leveling Base without the gimbal when I am not making panoramics or stitching. Because I am not very tall, the shorter height of this combination fits me well.

[ ALPA TC PANO SHOOTING SETUP ]
I had been using the RRS TCQ-14 tripod for a few years and was happy with it, and I acquired the RRS TA-2U leveling base shortly after the E-6H to finish the kit. This setup fits nicely in my camper van's under-floor stow area, making it perfect for travel. The E-6H came with a storage case, which is handy since the leveling base has a quick release, and I prefer to break it down for transport. It also came with a universal mounting plate and panning handle I do not use.
Update: I switched my RRS TA-2U to the Acratech Level Base MPN 1134 since this article was written. There is nothing wrong with the RRS TA-2U; I just wanted to stay with Acratech since I switched out my ball head for the Acratech Panoramic Head. The RRS TA-2U is more straightforward to store on the tripod since it does not have the knobs the MPN 1134 has.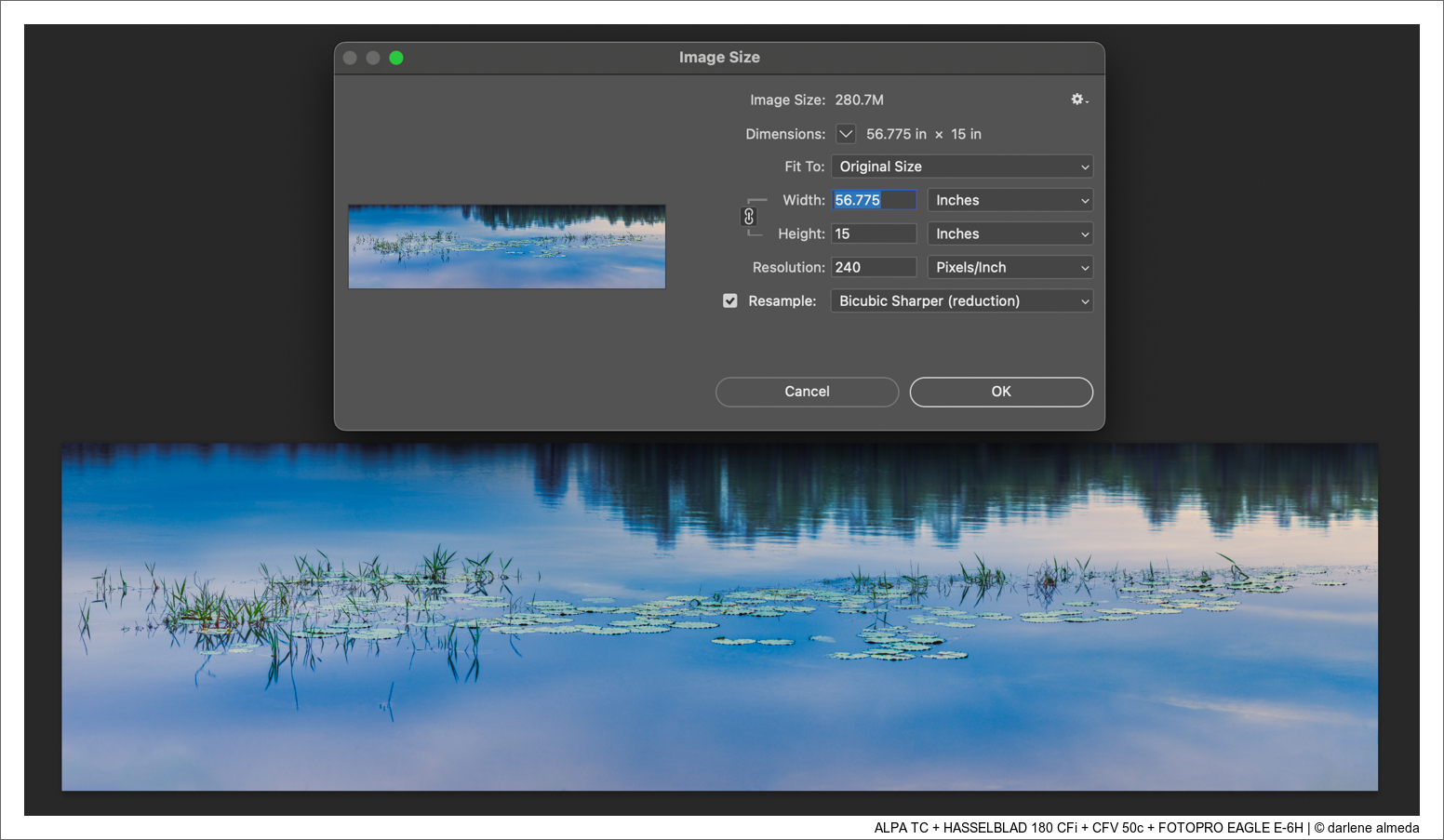 [ JUST A PUDDLE: HASSELBLAD 503 CX + HASSELBLAD CFi 180/4 + CFV 50c + FOTOPRO EAGLE E-6H ]
– 6 VERTICAL FRAMES STITCHED –
The E-6H works well with my Hasselblads, ALPA TC, and smaller cameras, and I can recommend it for the shooting techniques I use for stitching. Fotopro specs say the E-6H can handle up to 22lbs/10kg, and when mounted on the E-6H series tripod, 33lbs/15kg. I find the build quality and ease of operation of the E-6H superb.
I might have tried the Fotopro E-6H Eagle Series Tripod Kit if I had not had the TCQ-14 tripod prior, but I would need to add a leveling base as the E-6H tripod kit does not include one. I prefer a leveling base over a ball head and often use the TCQ-14 tripod with just the leveling base for landscape shooting, and I find it a great convenience.
The more robust Fotopro E9 Eagle Series Tripod Kit comes with a leveling base, but it does not interest me due to its size and weight. But if you are a photographer that uses long lenses and requires panning and a beefier setup, the E9 series may interest you. My RRS TVC-23 with Acratech Panoramic Head and Leveling Base is for my heavier camera needs, and I am very happy with its performance and stability.
###

[ GITZO GT1541T + RRS BH-30 + FUJIFILM X-PRO3 ]
GITZO GT1541T + RRS BH-30
The Gitzo GT1541T is a lightweight tripod that folds to a compact size and fits in a suitcase for airplane travel. When folded, the legs can be flipped over the center column and will surround the ball head, making it even more compact. I acquired it for a trip to Iceland many years ago, and this setup performed flawlessly in very cold weather.
The GT1541T has consistently supported my smaller and/or lighter-weight cameras like the Fuji APS-C models and 4×5 and 6×17 pinhole cameras without difficulties; it does what I want it to do. I used it with my medium-format ALPA digital kit when my larger tripod was unavailable without problems, but I prefer my RRS TQC-14 tripod kit for my medium-format cameras.
The RRS BH-30 ball head is compact and handles my smaller format and pinhole cameras well. It operates efficiently on the Gitzo GT1541T. I have used this compact tripod setup for over a decade and have no plans to replace it. It easily stows in the underfloor storage area of my camper van and is a breeze to carry into the field. Here is an excellent review of the GT1541T, and to see the specs for the RRS BH-30, go here.
###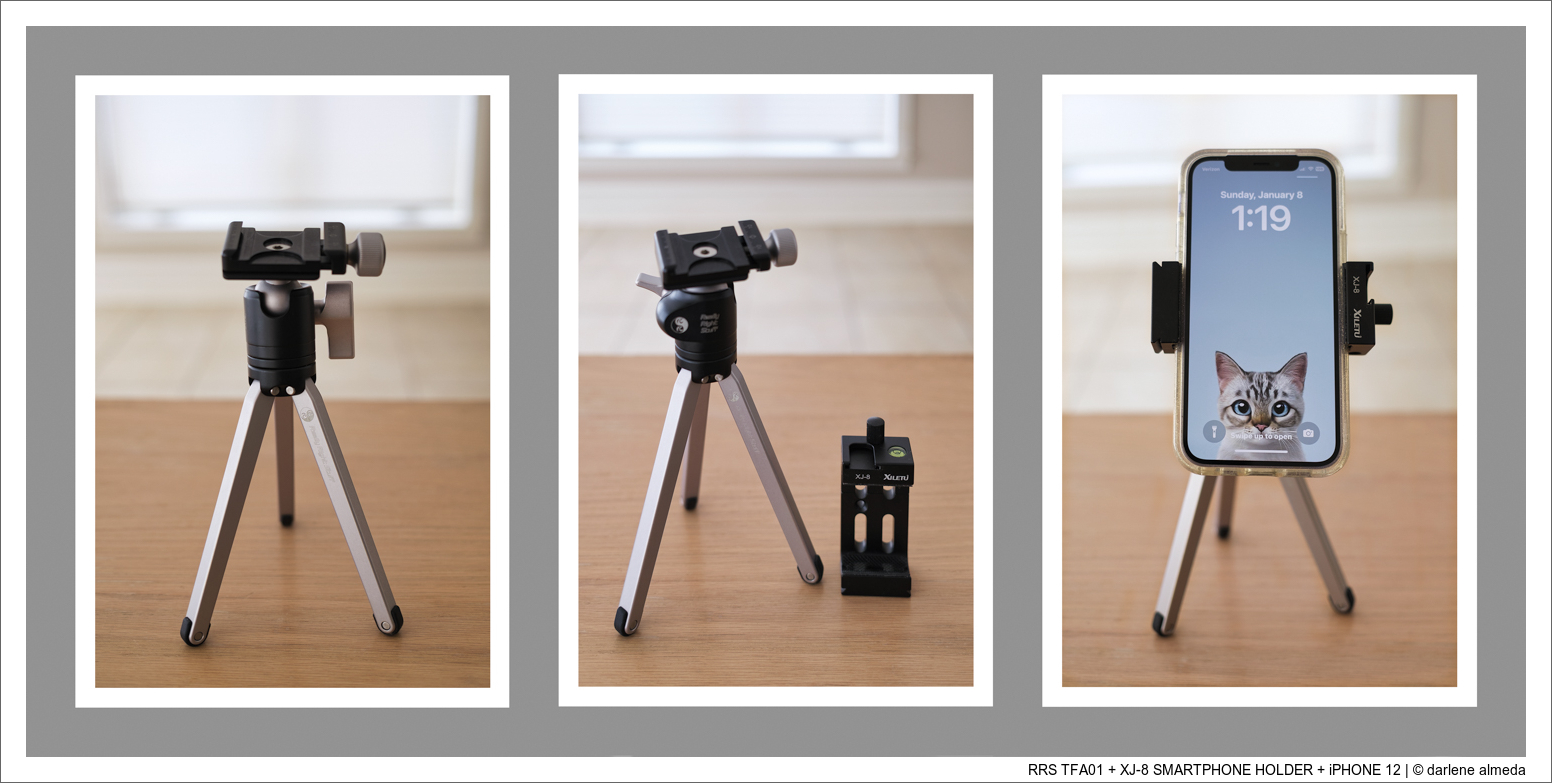 [ RRS TFA-01 + BH25 + AFVO SMARTPHONE HOLDER + iPHONE 12 ]
RRS TFA-01 POCKET TRIPOD & SMARTPHONE ADAPTER
My pocket tripod is the RRS TFA-01 with a BH25 ball head. What can you say about a pocket tripod? I'll say it is convenient to carry (why I acquired it originally), and it holds my Hasselblad 501cm, Nikon D200, and Mamiya 6 cameras without difficulty. The RRS TFA-01 is marketed to hold up to 50 lbs, but I have never needed to use it for a 50-lb load. I mostly use it for backup in my Mamiya 6 pack (my walkaround street shooter) and FaceTiming with my iPhone. It does not weigh much, and with the BH25 head, it hardly takes up any space in my pack. Would I buy it again? Maybe. I do not use it for shooting with a camera enough, and there are cheaper options for a small tripod for FaceTiming. Although, cheaper is not always better.
The phone holder shown has 'XILETU' and 'XJ-8' imprinted, and it is designed to work with an Arca Swiss quick-release system. But since purchasing it in 2021, it is now advertised as AFVO Universal Metal Smartphone Holder Tripod Adapter with Cold Shoe for Arca Swiss, 1/4″-20 Tripods. It works, appears to be good quality, and is affordable. Would I buy it again? Yes. It was worth the price and had the functionality I was looking for. I used it on my Kaiser copy stand a few times to take quick snapshots of food dishes I prepared. Why use a 'real' camera when the iPhone can take perfectly good snapshots of what I want to send to my friends?
I bought two inexpensive smartphone tripods on a B&H Flash Deal I gave to friends. I had to show one of my friends how to set it up, so I know the quality of these tripods. They say their tripods work fine, but I am glad I have the setup I have. I am also glad I did not lose money selling my pocket tripod on the used market, as I had contemplated doing so from lack of use. Then FaceTiming entered my life, and my pocket tripod only needed an Arca Swiss Smartphone Holder to breathe new life into it. No need to worry if my expensive iPhone may tumble over from tripod integrity and the bonus of having the AFVO adapter work with my copy stand is sweet.
###

[ DIGITIZING WORKSTATION & TOOLS ]
Copy stands entered my studio when digitizing film replaced film scanners. Because I use medium format equipment to digitize film when necessary, I purchased the Beseler CS Digital/Photo-Video copy stand. It is heavy, not mobile, and uses the same chassis as Beseler's 45 V-XL enlargers. Another copy stand I use is the Kaiser RS 2-XA. It is a portable, well-constructed copy stand that works well with my APS-C cameras. The stats say it will handle up to a 3.3 lbs/1.5kg payload. A sturdy copy stand is a must when digitizing film.
If you are interested in learning more about how I digitize my film and what equipment I use, here is a three-part series of articles I have written about my digitizing journey:
DIGITIZING FILM – PART 1 : [ copy stands, film holders, medium format ]
DIGITIZING FILM – PART 2 : [ software, stitching, more ]
DIGITIZING FILM – PART 3 : [ APS-C, Lightroom, film storage ]
I recommend starting with Part 3, the newest, most up-to-date article discussing my changes.
###