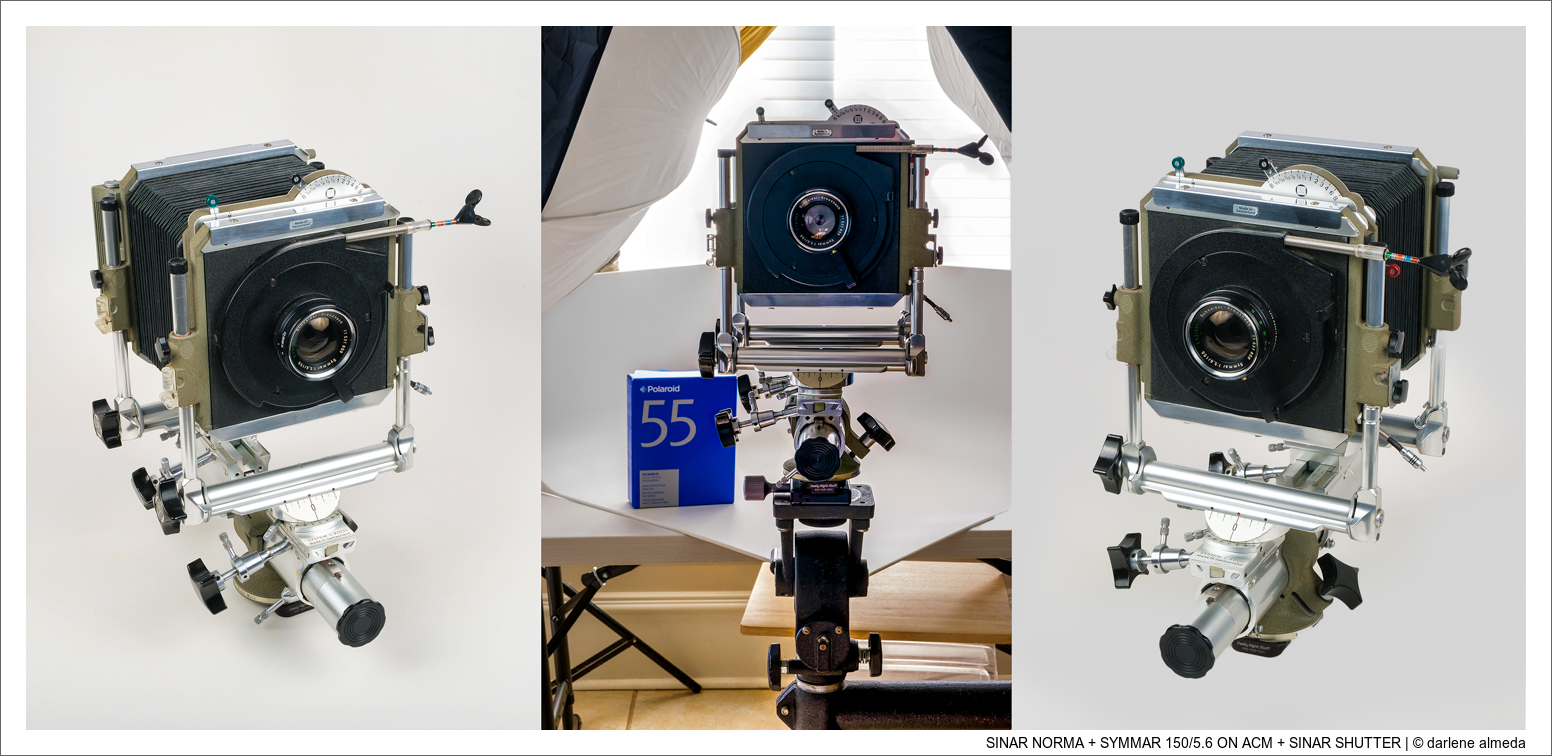 [ SINAR NORMA + SYMMAR 150/5.6 + SINAR SHUTTER IN STUDIO ]
Below are listed the SINAR cameras and other gear I have used with SINAR cameras:
CAMERA:
Norma
SHUTTER:
Mechanical with 'B' Style Aperture Control
SCHNEIDER LENSES 'B' MOUNTS:
Symmar 150/5.6, Digitar 120/5.6 M (Copal)
NIKON LENSES 'B' MOUNTS:
Nikkor 210/5.6 (Copal)
OTHER:
4×5 Film, Digital Backs, Instant Print Graflok Backs
LITERATURE AVAILABLE:
Sinar Norma Manual
S

tudio

I

ndustry

N

ature

A

rchitecture

R

eproduction =

SINAR
Carl Hans Koch created the Sinar Norma view camera in 1947 from his garage in Switzerland. Norma does not represent a famous female or a family member but the German word for "normal." It means "standard," as in a basic view camera kit [source]. The Norma was in production until 1969. It is a simple, precise, elegant modular camera system that would become the worldwide benchmark for large-format monorail view camera systems. The Norma is my choice for studio work, even in the digital age. It was not always this way, as I have owned monorail cameras designed specifically for digital, but I love the classic design of the Norma and the Sinar P2. I may acquire a P2 someday, but until then, it is Norma for me.
###
SINAR SHUTTER & APERTURE CONTROL SYSTEM
Norma does a lot of adapting, which is what I need to produce studio work. Make sure you have a graflok or international back to help with all the adaptations. My two Normas (one for shooting, one for parts) each came with Sinar mechanical shutters. One works like a charm, and the other needs an overhaul. The top banner image shows Norma with the Schneider Symmar 150/5.6 on an Aperture Control Mount (ACM). You can see the Sinar Copal mechanical shutter installed behind the lens. We know why the ACM is nicknamed "mouse ears." Using the Sinar shutter can be convenient if I do not need to go faster than 1/60 second. If I could afford a Sinar P2 and lenses, I would surely enjoy using it, but the Norma has worked for me. Not having to return to the front of the camera to set lenses is convenient, and utilizing Sinar shutter's preview lever for focusing Live View on my digital back is even more convenient. Besides keeping me behind the camera, the Sinar independent shutter is a creative tool. And without it, I could not photograph with an old brass Petzval lens I enjoy.
###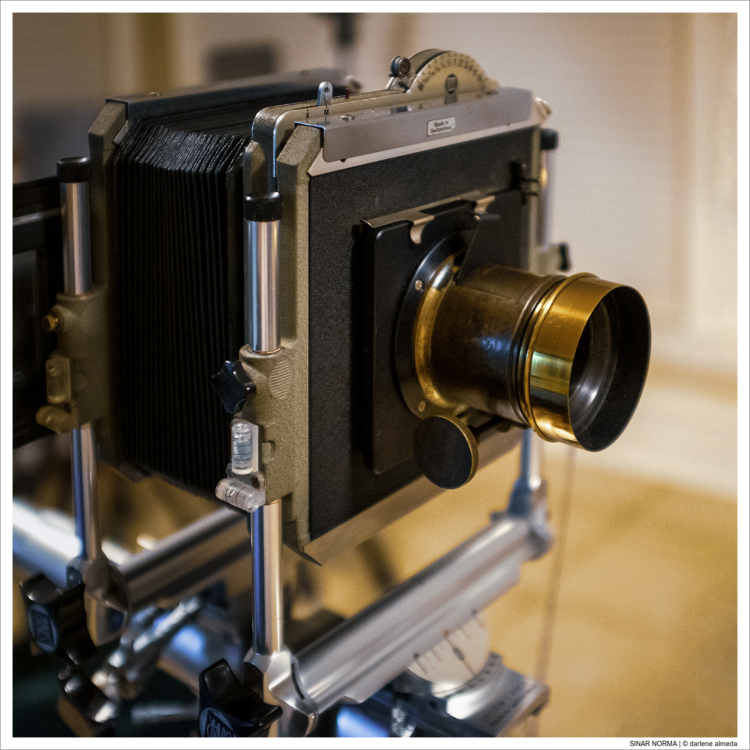 [ SINAR NORMA + SINAR SHUTTER + 1880s BRASS PETZVAL LENS ]
PETZVAL LENS & SINAR SHUTTER
Pictured above is my Norma fitted with an old brass Petzval lens. During 1840-1878 is when Petzval lenses were manufactured
[source]
. The photographer's machinist company, 
S.K. Grimes
, fabricated Waterhouse stops for my Petzval lens. I can create unique-looking images with an antique lens, such as the Petzval with the Waterhouse stops and the Sinar Shutter. The Norma can do whatever I need it to do. Whether film, digital or instant prints, Norma is waiting in my studio, ready to go!
###
SINAR NORMA + LOMOGRAFLOK INSTANT BACK + FUJIFILM INSTAX WIDE

[ LOMOGRAFLOK & SINAR NORMA w/ HASSELBLAD CF 80/2.8 + INSTAX FILMS ]
Pictured above is a Lomograflok Fuji Instax Wide 4×5 back on my Sinar Norma with a Hasselblad CF 80/2.8 lens. The Hasselblad lens is mounted via an adapter made for Linhof boards. I used a Sinar-Linhof adapter board to make it work. There is just the right amount of bellows drawn with this setup to work with the standard bellows. Fuji Instax is a better film than Polaroid, in my opinion. Polaroid film has consistency problems. Nothing is worse than spending money on a film you cannot count on. Instax is not hard to find. I order a Five Pack Bundle (5 x 20-Pack/100 sheets) from Adorama as they seem to have the best price.
###