[ LINHOF MT 3000 + Nikon 90/4.5, 150/5.6, 300/9 KIT ]
Below are listed the LINHOF cameras and other gear I have used with LINHOF cameras:
CAMERAS: Baby Color 6×9, Master Technika 3000
NIKON LENSES: SW 90/4.5, W 150/5.6, W 210/5.6, M 300/9
RODENSTOCK: 65/4.5 Grandagon-N + Center Filter, Apo-Macro-Sironar 120/5.6
OTHER LENSES: Docter 240/9 Germinar W
DIGITAL BACKS: Hasselblad CFV-50c & CFV-50c II
FILM MAGAZINES: Fidelity 4×5, Super Rollex 6×9, Techno Rollex 6×12
VIEWFINDERS: Right Angle Reflex Viewfinder, Bellows Focusing Viewfinder
OTHER BACKS: LomoGraflok 4×5 Instant Back, Mercury Camera Polaroid Graflok
Linhof is a renowned camera manufacturer known for superior craftsmanship and precision engineering. Professional photographers, especially those in architecture, landscape, and studio photography, favor Linhof view cameras for their outstanding image quality and versatility. My initial Linhof view camera was a 6×9 Baby Color, and I would eventually move to a Linhof 3000 from there. This modular camera has exceptional precision, tight engineering, and excellent build quality. Linhof products always exceed expectations. I wish my Ebony RSW had a Linhof back so I could use Linhof accessories with it; that is how good their system is.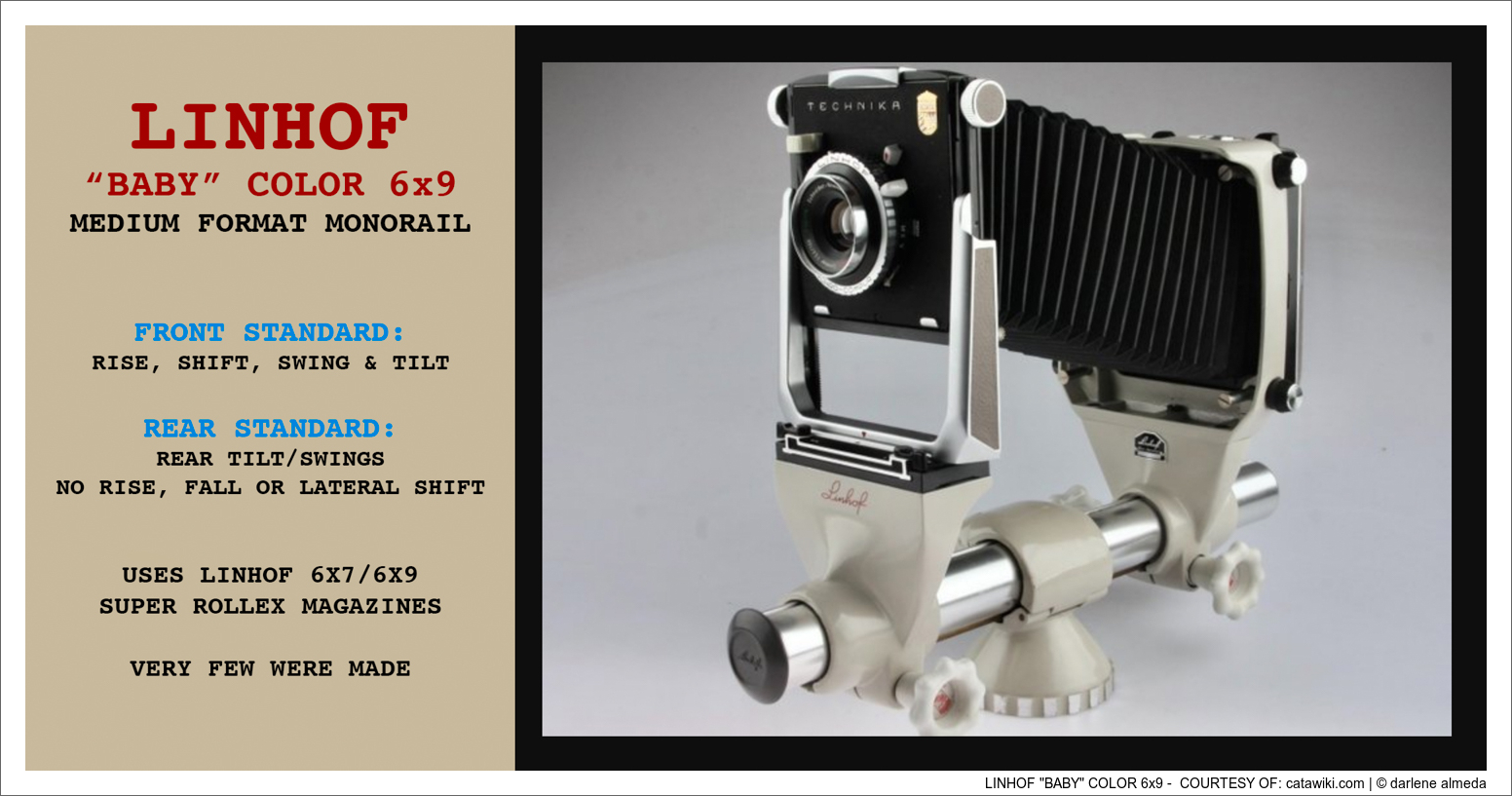 [ LINHOF "BABY" COLOR 6×9 ]
The Linhof Baby Color 6×9 was my introduction to Linhof cameras. It is a small monorail camera that is minimal to operate by today's standards because of its limited rear movements. Limited rear movements can make for better use with a digital back.
The Baby I had was built in 1964, according to documents that came with the camera. I shot with it in the studio for about two years, but because of its collectible condition, I accepted an excellent price from a collector who would better care for it (showcase it rather than shoot with it).
Overall the Baby was a sweet little monorail for its time and could make great images. I found it easy to shoot with but limited at times. The Linhof Image Gallery at the bottom of this page shows an image I made with the Baby. I found the original Linhof 6×9 cut film holder that came with it in my gear closet recently, and it made me smile. I shot a Linhof Super Rollex 6×9 magazine with it exclusively, so I cannot comment on the cut film holder. Do I miss it? Not really, but I am glad to have experienced shooting with it.
###

[ LINHOF 3000 + NIKKOR: SW 90/4.5 + W 150/5.6 + M 300/9 ]
LINHOF MASTER TECHNIKA 3000
When the time came to replace my lovely Ebony wood field with a metal field for better rear standard stability when working with a digital back, I wanted a Linhof Master Technika (MT). I found a used MT 3000 for a great price, and it is a wonderfully versatile camera. It is compact, easy to use, set up quickly, and has accessories I like. Everything is great except when I want to shoot with my Rodenstock Grandagon 65/4.5.
I have shot my 65 with it, but it is more of a hassle than I care for out in the landscape. Shooting the Nikkor 90/4.5 is not a hassle. But why is it a hassle, you may ask? You have to drop the bed and raise the door on the top of the box, but even then, I have to be very careful and not tilt or move too much, or I may get a piece of the camera in the frame. If you have the time to tweak it, you can get there, but I prefer to spend less time fiddling with a camera alone out in the landscape.
I am a petite female who likes shooting alone. I cannot tell you how often I have had to pack it up and leave quickly because someone got it in his head to approach me. Stay away from female photographers in the landscape or streets with their heads in a camera, or you might get bear-sprayed or worse. I need a quick way to shoot wide-angle lenses on a 4×5; unfortunately, my MT 3000 is not working that way.
So, after struggling with what to do for a couple of years, I decided to keep the Linhof primarily in the studio for art and product shooting and return to an Ebony RSW45 for landscape work. The MT 3000 works great for the type of product shooting I do, as using 120 macro, 210, or 300 lenses is never a problem. I do not want to part with the MT 3000; I love using it too much, but it is not a great camera for shooting my 65, and I love that lens.
Dislikes: I already stated how I dislike the MT 3000 with my 65/4.5, but there are two other areas where the MT 3000 does not work for me. These will only affect some photographers, but I must let you know if you are reading this.
(1) I use a custom-made Hasselblad V lens adapter with my Sinar Norma and Ebony cameras. It will not work on the MT 3000 even though it is built on a Linhof-style board. The front of the camera will not allow me to adjust the controls of the lens. Now, Linhof did not design their cameras to be used with other manufacturer components, but just the same, this adapter works on my other 4×5 cameras.
(2) My LomoGraflok 4×5 Instant Back (LGB) fits onto the Graflok of the Linhof, but when the exposed film tries to leave the LGB, it cannot because the rear body of the MT 3000 gets in the way. My workaround is to remove the LGB, press the film release button for development, place the film on a table, and reinstall the LGB for the next shot. Instead, now, I use my Sinar to shoot Instax films.
These problems occur because Linhof engineered the MT 3000 to be as compact as possible, which is beautiful if you use one. But if you play with creativity and want to use tools that Linhof did not design for use with their camera, you might have to figure out another way to use your new tool. I suggest always having access to another 4×5 monorail camera.
###

[ LINHOF BELLOWS FOCUSING VIEWER – SIDE PROFILE & MOVEMENT FOR SEEING ALL OF GROUND GLASS ]
LINHOF BELLOWS FOCUSING VIEWER
In response to a friendly message from a fellow photographer, I'm quickly jotting down my thoughts on this piece of gear, my favorite viewer when shooting 4×5. This quick review comes on the heels of wrapping up an intense graphic design project just hours before the deadline, so I'm buzzing with energy (Ian, this one's for you). Captured with my Fujifilm X100V, the first image reveals this viewer's sleek, low profile. It's as flat as a pancake, effortlessly fitting into the front pocket of my backpack. The viewer extends slightly, allowing you to scan from one corner of the frame to the other. Its negligible weight mostly comes from the robust metal plate that attaches to the ground glass and focusing loupes it features. For a comprehensive look and precise composition, there's the built-in 2x loupe. For more critical focusing, the included 2x magnifying loupe screws into the first loupe, effectively making it a 4x loupe. In the center image, you'll notice the viewer without its magnifying loupe, giving a clear view of the entire ground glass. The magnifying loupe is then added to the image on the right for fine-tuned focusing.

[ LINHOF BELLOWS FOCUSING VIEWER – FULL GROUND GLASS VIEW ]
The image on the left above reveals the entire ground glass area, delineated by a red outline, but it's marred by the reflection of the X100V—making it unfit for this write-up. The image on the right, taken through the viewer without the magnifying loupe, also falls short in accurately portraying what it's meant to represent. I realized how inadequate these images were only after I had left the studio and packed away my gear. The X100V's fixed lens cannot capture the whole scene of the ground glass when shot through this bellows focusing viewer. You'll have to take my word for it: to see the entire ground glass, the magnifying loupe needs to be removed. Those familiar with modern Linhof 4×5 Technika products know that their viewfinders are designed to cover the whole ground glass. The top-left corner of the first image also shows where I usually place the additional 2x magnifying loupe when I need a complete view of the ground glass. For this session, I had access to three lenses: a Rodenstock 65/4.5, a Nikkor 90/4.5, and a Nikkor 300/9. I opted for the 90/4.5, which is why the images have darkened corners. I plan to use my Nikkor 150/5.6 for a reshoot, although I can't confirm when that will happen.

[ LINHOF BELLOWS FOCUSING VIEWER – REAR ATTACHMENT – FRONT WITH MAGNIFIER LOUPE OFF ]
The unfortunate reality of my aging bellows viewer is that its interior foam-like material is starting to deteriorate. I plan to reach out to Linhof to inquire if their newer models feature a different material—given that a brand-new viewer comes with a hefty price tag. Is it worth the investment? Only if I can secure it for at least half the list price and if the material is more durable and resistant to wear over time. I'm so fond of this viewer that I've contemplated adapting it for use with my Ebony RSW camera. However, it doesn't seem like an easy modification. The rear attachment plate is fastened with multiple screws to what appears to be another plate. Crafting and attaching a custom plate designed for the Ebony would be far from straightforward. If this modification is even feasible, whom should I contact for a price quote? S.K. Grimes of Woonsocket, Rhode Island, that's who.
Is Adapting the Viewer for My Ebony RSW Feasible?
I recently reached out to S.K. Grimes, experts in custom photography fabrications, to see if my older bellows viewer could be modified to fit my Ebony RSW. I've sent them photographs of both the worn-out original Ebony bellows viewer's attachment plate and the rear plate of this particular viewer. I have previously enlisted their services for custom fabrication projects and can vouch for their quality work. Their reply was as follows:
"Thank you for the inquiry. We would need a closer look at the Linhof bag viewer to determine how easily this could be done. Depending on the mounting solution and size of the frame, it could be as simple as a plate matching the Ebony sample you have. There could be more complexity if we need to step the mounting plate to clear space for the latches." 
Given that the project may involve more than just a few screws, it could be complex. However, I plan to send both bellows viewers to S.K. Grimes for a closer examination as soon as feasible. I'll keep you updated on what they say.

[ LINHOF MT 3000 + SHEN HAO 6X17 FILM BACK + 4X5 KIT ]
LINHOF MT 3000 + SHEN HAO 6×17 FILM BACK
The MT 3000 had no problem shooting with the Shen-Hao 6×17 film magazine; unfortunately, the 6×17 magazine proved too bulky to carry around and set up, so I let it go. Instead, I do a crop from 4×5 or 6×12 (120) films. Easier and cheaper than hauling around a dedicated 6×17 camera. I am only trying to please myself here.
To shoot 6×17 on a 4×5 camera, the camera has to be transformed into a 5×7 for the format to work. You cannot simply place a 6×17 film magazine on the camera because you cannot focus correctly. The Shen-Hao 6×17 magazine is a film back with a block of space built into the back of it. This space is necessary for correct focusing on the supplied ground glass. It makes your 4×5 perform like it has a 5×7 film plane, and then the image circle of your lenses comes under fire. When you acquired your 4×5 kit, did you purposely choose lenses that could also handle 5×7 film? Without getting into too much here, I will say you need to check with the manufacturer of the 6×17 back you are looking at as to what focal length is possible with their design and then look at your lenses.
###

[ LINHOF TECHNO ROLLEX 6×12 FILM MAGAZINE ]
LINHOF TECHNO ROLLEX 6×12 MAGAZINE
I have used a Linhof Techno Rollex for panoramic 6×12 creation for about a decade. Before the Techno, I used a Horseman magazine of a similar size but not the same construction. The build quality of the Linhof is typical Linhof gear, built like a tank. I have used this back with my Linhof Master Technika and Cambo Wide 650. The film lays flatter in the back and produces larger files than the Horseman, which is why I keep it. The weight of the Techno is noticeable, but the consistency of smooth operation and film flatness is a reason to prefer it over other similar format film magazines.
When I have not used this magazine for 6 or 8 weeks due to the summer heat or biting bugs in the marsh landscape, I love to shoot in; I practice loading it with a roll of film I have numbered with a marker seen within each frame to make sure I remember how to load it correctly (practice for perfection). Overall I enjoy this 6×12 back but would be happy shooting a Horseman if I did not have the Techno.
UPDATE 3/15/23:
Since going back to shooting an Ebony RSW45, I have found the Techno 6×12 magazine is too thick for the Graflok levers of the Ebony. Maybe the Ebony could be adjusted or modified; I do not know. Either way, it is a bit heavy for the smaller Ebony. So I have instead purchased a used Shen Hao Da Yi 6×12 film magazine to use with the Ebony and may let go of the Techno.
###