[ EBONY CAMERAS: SV45 + 45S + 45SU ]
EBONY CAMERAS & GEAR LIST
[ YES ]
Below are listed the EBONY cameras and other gear I have used with EBONY cameras:
CAMERAS: 45S, 45SU, RSW45, SV45
NIKON NIKKOR LENSES: SW 75/4.5, SW 90/4.5, SW 90/8, W 150/5.6, W 210/5.6, M 300/9
RODENSTOCK LENSES: Grandagon-N: 65/4.5 & 90/4.5, 135/5.6 APO-Sironar-S, 210/5.6 APO-Sironar-N
SCHNEIDER LENSES: 120/5.6 Macro-Symmar HM, 120/5.6 Macro-Digitar, 150/5.6 Symmar-S
OTHER LENSES: Docter 240/9.0 & Cooke PS945 229/4.5
BACKS: Reducing Back 45-69, Horseman 6×12, Da Yi 6×12
OTHER: Ebony Focusing Bellows & Loupe, Fotoman 6×12 Viewfinder w/Fresnel GG
OTHER: Made For Ebony Compendium Hood (see article here)
LITERATURE DOWNLOADS AVAILABLE:
The Ebony Camera Company was started in 1981 when Hiromi Sakanashi, a photographer from Kyushu, Japan, could not find a large-format camera that was lightweight and portable like a field camera but with the rigidity of a monorail. So Hiromi decided to create his own, and other photographers noticed and asked him to build them one, too; thus, the Ebony Camera Company was born.
Ebony cameras were produced in a small workshop in Tokoyo that employed less than ten people. Ebony made approximately 40 different models of ebony wood and titanium cameras. Some mahogany models were produced, especially in larger formats, to save on weight. Ebony cameras were made in formats from 6×9cm through 20×24″, including traditional folding field cameras and non-folding models, some with asymmetrical back movements. Sadly, the Ebony Camera Company closed on June 30, 2016, upon Hiromi's retirement.
The Sakanashi family has been in the photographic business since 1871, when Hiromi's great-grandfather founded one of Japan's first photographic equipment stores in Kumamoto, Kyūshū. Hiromi is a graduate of Tokyo Photographic University and worked as a professional photographer in the 1970s, doing architectural and studio work. He also ran the family business, which had evolved into a store specializing in professional photographic equipment by then, and he led workshops for Japanese photographers in various European countries.
# # #
I fell in love with Ebony cameras as their beauty is not just skin deep. Besides being beautifully built from ebony wood and titanium hardware, all the models I shot with over the years were solidly built with precision movements and rigid strength for shooting 4×5 and roll film magazines.
I have had four different Ebony models, beginning with a new SV45. After shooting with the SV45 for a year, I found I prefer non-folding field cameras for their speed of setup and less chance of pinching the bellows when folding up the camera. I equated my many years of shooting in the studio with monorail cameras to my preference for non-folder fields and decided to sell the SV45 and get a new 45SU with asymmetrical tilts. I had the 45SU for a few years but eventually grew tired of its weight. I was shooting out in the landscape with it, and although asymmetrical tilts are nice, I found I did not use them enough to justify the added weight and expense.
Then I found a used RSW45 (RSW) that hit my sweet spot with wide-angle landscape photography. But after a few years, I felt the need for longer bellows and traded up for the 45S. The 45S stayed more in the bag than out because of my busy work schedule, so I eventually passed it on to a photographer in Switzerland.
Over time I regretted I had let go of the RSW. Of all the beautiful Ebony models I had owned, the RSW rose to the top as the best fit for my field camera needs. It is a lovely, lightweight 4×5 field camera built-for-the-landscape shooter that likes to work quickly and precisely out in the landscape with wide-angle lenses. For me, it truly is a sweet little camera. When the day came, I could concentrate on landscape and travel photography, I would return to the RSW.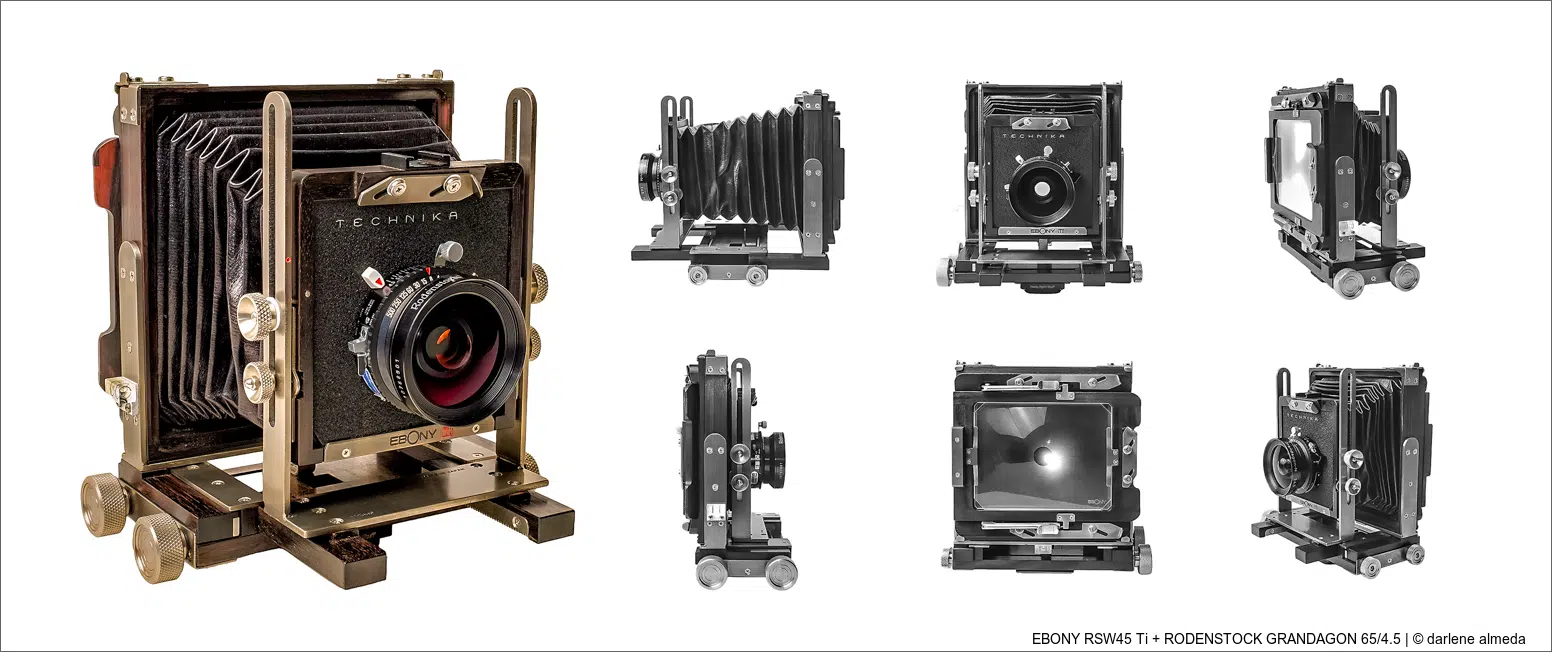 [ EBONY RSW45 Ti + RODENSTOCK GRANDAGON 65/4.5 ]
In 2019 I decided to start looking for another Ebony RSW. Finding one that fits my budget and condition requirements was a challenge. It took three years to locate it, and I am happy
Green Mountain Camera
in South Burlington, Vermont, made it happen. Please look at their
eBay store
and
website
for good deals on great equipment.
It must have been ten years since I held my original RSW, and it is lightweight compared to my Linhof 3000 and easier to use with wide lenses. The first time I took it out with the Rodenstock Grandagon 65/4.5, I asked myself: "Why did I ever let it go?" Back then, however, I was too busy shooting for online product catalogs and teaching commercial photography in the classroom to devote time to a 4×5 field camera out in the landscape. However, the thought of being able to do it after I retired never left my mind.
The RSW is a uniquely configured camera designed around the SW45. Initially, it was only available in the UK through Robert White Photographic Retailers. They contacted Ebony Camera with their design for the RSW and requested it be made and sold only through their stores. So if you wanted a new RSW, you had to order it from Robert White.
Both RSW cameras I owned were purchased on the used market, and since Ebony Camera closed in 2016, a used RSW is the only option, and good luck finding one. The RSW is simply a stripped-down SW45 but a popular camera with some photographers, so much so other camera makers have copied its design. It may have been the most minimalist 4×5 camera Ebony Camera made. It can be considered a beginner's camera, except the materials and quality do not equal a beginner's camera. The differences between the SW45 and RSW45 cameras are shown below.
SW45

RSW45

FRONT RISE:

60mm

FRONT RISE:

60mm

FRONT FALL:

25mm

FRONT FALL:

25mm

FRONT SHIFT:

38mm+38mm

—

FRONT SWING: 

45°+45°

—

FRONT CENTER TILT:

20°+20°

FRONT CENTER TILT:

20°+20°

BACK RISE: 

50mm

—

USABLE LENSES:

35mm – 180mm




USABLE LENSES:

35mm – 180mm

WEIGHT:

3.49 lbs (1.5kg)

WEIGHT:

2.85 lbs (1.1kg)
You might wonder why I prefer the RSW when I could have had an SW for about the same price. The lighter weight and solid stationary rear standard the RSW offers are the most attractive to me. I do not need front movements other than rise/fall and tilt. That may sound odd to some photographers to voluntarily give up movements, but hear me out. When I sold my Jobo ATL 1000 a decade ago, I gave up shooting color film for a digital back. I felt the RSW rear standard might be strong enough for a digital back if I wanted to go that route. As of this writing, I have not tried the RSW with my digital back because I enjoy shooting b&w films more. If I think a photo will look good in color, I colorize it (example
here
) using a Wacom tablet and pen in PS. I will update this article when and if I try my digital back with the RSW.
Remember, I also have a Linhof 3000 with more reach and movement if I have a landscape project that requires more of each. The 3000 is not my favorite camera for wide-angle lenses. It can be done, but shooting my Grandagon 65 on the 3000 makes me feel constrained. It requires the bed to drop and a bit of fiddling with the camera to ensure its box is not visible in the composition. As a landscape shooter, that does not work for me. I need a field camera that operates quickly and precisely, and it must not get in the way, or I will leave it behind regardless of whatever niceties it may offer. Being a solo petite female in the landscape has its challenges, and I do not let it stop me, but I know what works for me and what does not. The 3000 is a beautiful camera, but it works best with the lenses I use in the 90 – 300mm range.
PROS
The RSW is an easy-to-use landscape field designed exclusively for wide-angle shooting. Its lens range is 35mm – 180mm, with only the 35mm requiring a recessed lens board. I doubt I will go beyond 65mm to 150mm. The similar SW camera and RSW share the same lens range, but a few movements have been eliminated for the RSW, making it more stable for digital back use, lighter to carry, and quicker to set up. Here is Robert White's introduction video about the RSW.
CONS
What I prefer about my other field camera, the Linhof 3000 to the RSW, is some of its accessories, especially my most-used accessory, the Linhof bellows viewfinder. It is the bee's knees if you dislike using a dark cloth out in the landscape. Unfortunately, the Techno Rollex (TR) 6×12 does not fit under the RSW's graflock slide bars. If adjusted, the bars might work, but the TR is a bit heavy for the RSW, so I do not know if I would be happy with it in the long run. Instead, I use a Da Yi (Shen Hao) 6×12 back with the RSW. In the past, I used a Horseman 6×12 with my previous RSW and 45SU cameras, and I may get another if the Da Yi does not work out. So far, the Da Yi 6×12 back has given me some difficulty, but the film has come out fine. So, my biggest dislike about the RSW, which goes for all Ebony cameras, is its lack of available accessories.
# # #
IN REGARDS TO ROLL FILM BACKS
Every roll film magazine I have used (Linhof, Horseman, Hasselblad, Shen Hao 6×17, and Da Yi) has their particular design tolerances. Hasselblad is the easiest to load/unload/shoot for me. Still, I have been shooting Hasselblad since the start of my career and can only imagine what a young photographer faces using one for the first time today. The most difficult film magazine I have used thus far has been the 6×12 Da Yi, but I am new to it and will be patient with it for a while. Loading is a breeze, but the unloading has been a nightmare, as the tolerances are unforgiving to my smaller fingers. I emailed Da Yi (Shen Hao) requesting an instruction sheet, hoping I was missing something important, but they never answered. If I cannot work out its unloading quirks, I will look for an alternative, but I want the Da Yi 6×12 to work. Their film magazines are of a simple design, which, IMO, is the best, but the tolerances between the parts are what I am questioning. Designers are not always operators of what they design, but you would think the design goes through thorough user testing before it hits the retail market.
# # #
[ EBONY RSW KIT & TENBA FULTON V2 16L ]
ON THE ROAD WITH THE RSW
I enjoy campervan travel in my home state of Florida, and the RSW is my 4×5 travel and landscape camera. My RSW kit consists of lenses from 65-150 and a few accessories, and it all fits nicely in a Tenba Fulton v2 16L Backpack. Here is my write-up on using the Fulton v2 16L with the RSW. I am based in North Florida, not far from the Georgia border, and enjoy traveling to Florida's east coast, west coast, the Panhandle, south Georgia, and eastern Alabama. I have no desire to travel south of Orlando after living in South Florida for more years than I cared to. I have palm trees on my property; no need to travel south to see these adorable mop tops. ????☀️????
WHAT I TYPICALLY SHOOT WITH THE RSW
North Florida is my home. I am very much attracted to this area's architecture, small towns, semi-tropical landscapes, and various fauna and flora. So what do I typically shoot with the RSW? All of the above. For example, an image I made with the RSW near St. George Island is below. North Florida is full of old oaks, among other beautiful trees—many small towns with antebellum-style mansions, tobacco barns, and old warehouses adjacent to railroad tracks built for storing and transporting fresh-picked cotton and produce. I am not much of a beach person, but I enjoy photographing the dunes and scrub pines that populate the nearby Gulf Coast.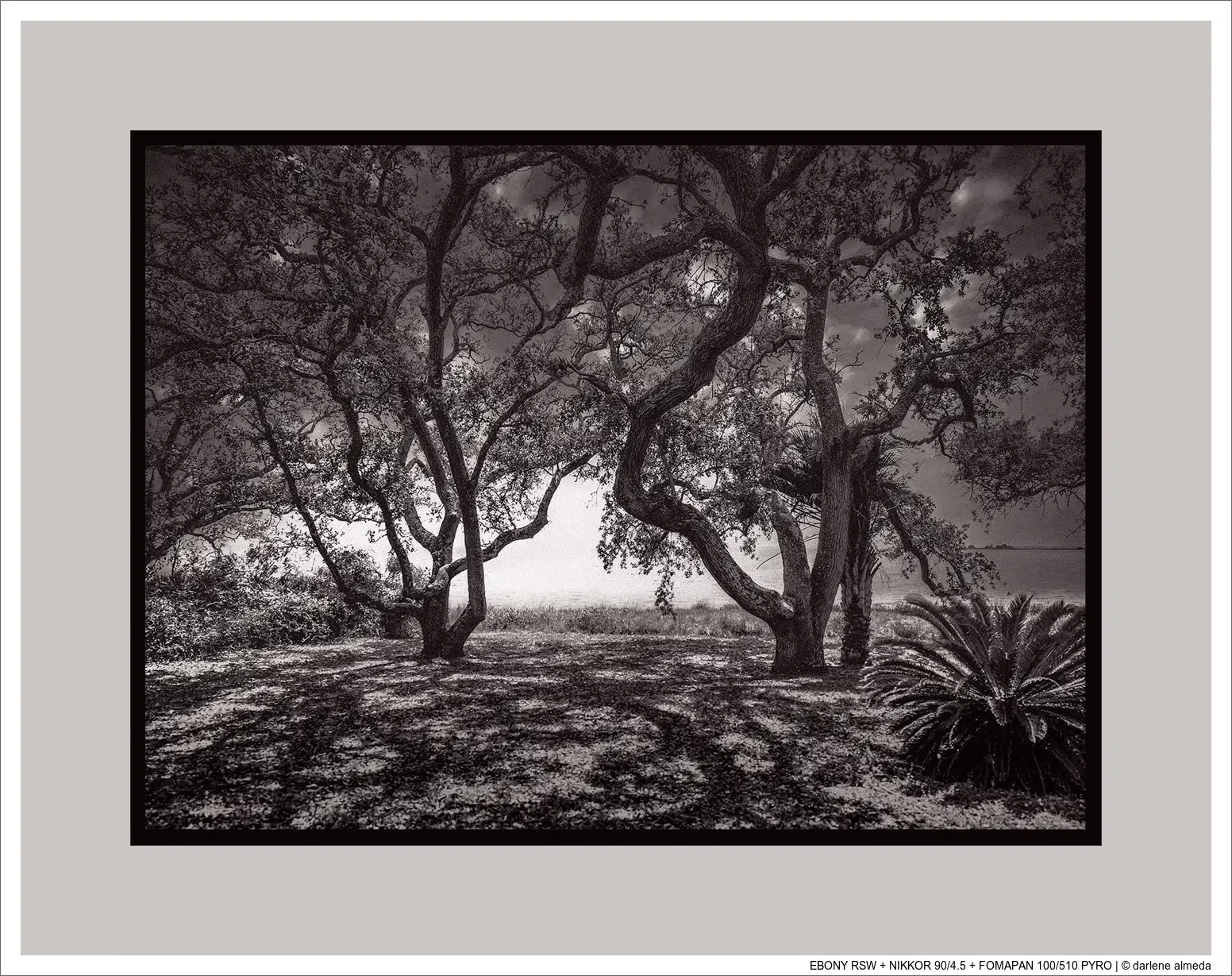 [ EBONY RSW + NIKON NIKKOR 90/4.5S + FOMAPAN 100/510 PYRO ]
FILM CHOICE & FORMATS
I shoot 4×5 and 120 films with the RSW. The 120 films are currently exposed through a 6×12 Da Yi film magazine. I often crop a 4×5 (or a 120 negative if it will look better) into a 6×17 perspective. I would love to shoot a Shen Hao 6×17 field camera, but I doubt I will ever have one because of cost and weight. The older I get, the less weight I want to carry, thus my return to the fabulous RSW.
Buying film is getting expensive, so I stock up during a sale. Some photographers might think it is too costly to shoot 4×5 only to crop it to 6×17 when 120 film choices are more abundant and lower in price. I agree it is most economical to shoot 120 films when a panoramic perspective is the goal, but I do not have a 6×17 camera. The thought of owning another 5×7, as I had many years ago (Wisner 5×7 Technical Field), will never happen. The extra weight, film costs, and processing for 5×7 will not occur when I can easily crop.
I had a Shen Hao 6×17 film magazine briefly that I tried with my Linhof 3000. I took it out once and decided to let it go after that because it was too bulky to carry and required more setup time than I am willing to give when I can just as easily crop. When I crop a 6×12 to a 6×17 perspective, it does not hurt too much. When I crop from a 4×5 to a 6×17, sometimes it hurts, but if all compositions could fit the 4×5 format better, I would shoot the 4×5 perspective and be done with it, but I like to shoot a panoramic 6×12/6×17 perspective when the scene calls for it.
# # #
[ RODENSTOCK 65/4 + NIKON 90/4.5 & 90/8 + NIKON 150/5.6 ]
RODENSTOCK 65/4 GRANDAGON-N
is a superb lens for this camera. Because I choose not to use many movements with the RSW, the 65/4 does very well. I have had this lens since receiving it with a used Arca Swiss 6×9 Field Compact over 20 years ago. A center filter is a nice option, although I do not use it often; the need would probably be there if I were shooting transparency film.
UPDATE JULY 2023: I will eventually place the Rodenstock 65/4 Grandagon-N and its center filter up for sale. The reason is I switched my Pano Kit to the Cambo 650 to lighten my 4×5 pack. The Cambo 650, 6×12 magazine, 65 Techno viewfinder, and Fotoman 6×12 graflok ground glass viewer fit nicely in my Porta-Brace Sack Pack. The Cambo 650 is quick to set up and shoot. Doing this makes my 4×5 pack a couple of pounds lighter. Instead of keeping the Rodenstock 65, I decided to try the Nikkor SW 75/4.5 after asking other large format photographers that have used the lens if they like shooting with it, and I am glad I did. I received an excellent copy of the lens from Roberts Camera (UsedPhotoPro) and could not be happier. Below is the second image I made with this lens.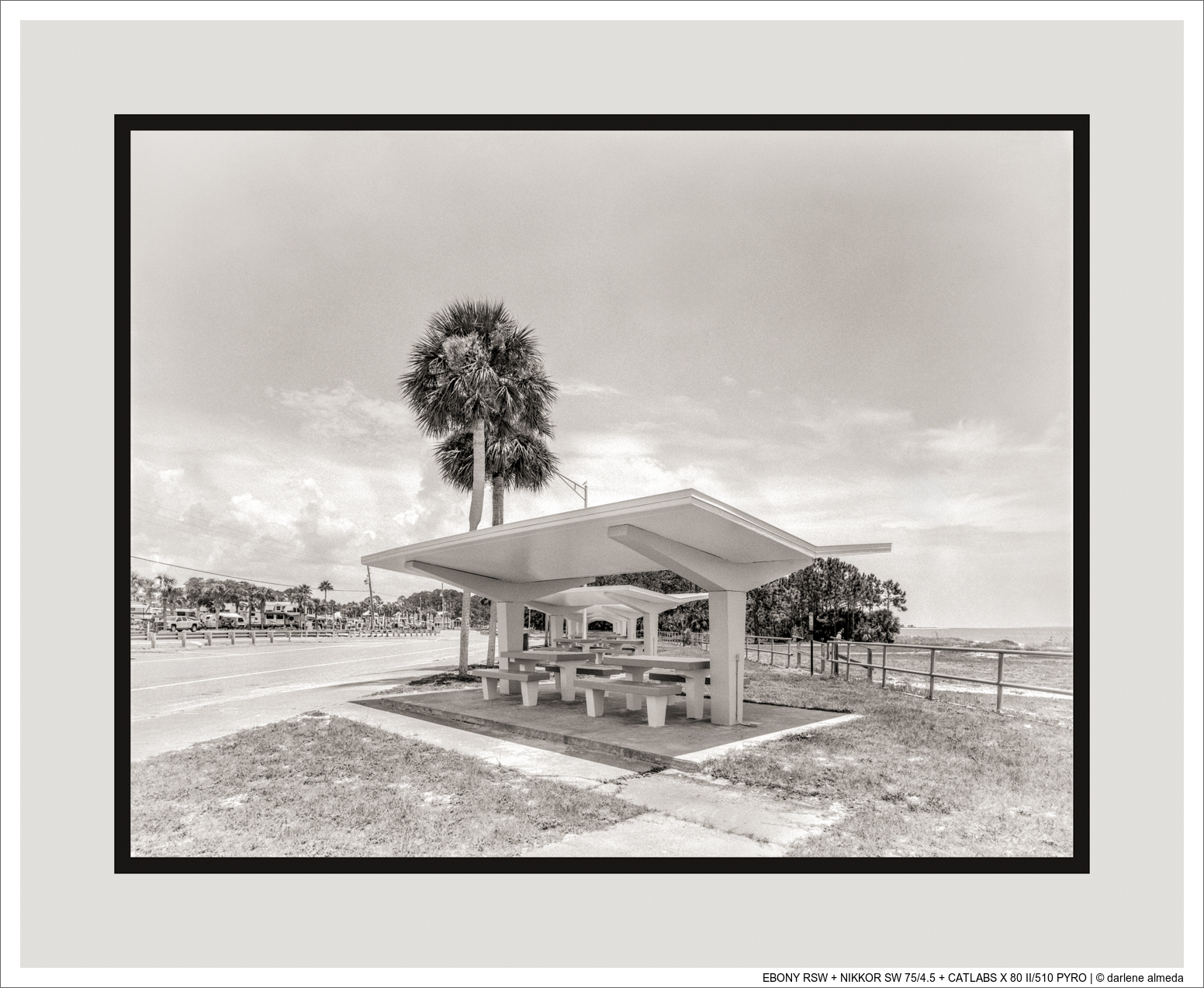 [ EBONY RSW + NIKKOR SW 75/4.5 + CATLABS X 80 II/510 PYRO ]
NIKON NIKKOR SW 75/4.5
is a superb lens that compares well with the Nikkor 90/8 regarding sharpness, contrast, weight, and handling. After I realized my most used lens for what I enjoy shooting is the 90 perspective, I thought it would be a good idea to try out the 75 as it would provide a similar view with a little more breathing room. I carry three lenses when I travel, and the two wide lenses can cover each other in the event I have a lens malfunction on the road. It would be sad to travel for architecture and landscape photography and, once at the destination, not to have a working 75-90 lens to work with. Keeping the 65 would make good economic sense, but I prefer the 75-90. The value of the 65 and its center filter will more than cover the cost of the 75. I'm glad I made the switch and have a dedicated pano camera kit with the Cambo 650.
NIKON NIKKOR SW 90/4.5 is another superb lens that lets me see to the corners and back while composing for building interiors and stormy skies. It is a large, hefty lens because of its luscious 4.5 aperture, so it stays home often, but it is a keeper and comes in handy when needed.
NIKON NIKKOR SW 90/8 is the lens I use the most for landscape shooting. Super sharp, and seeing to the corners is possible as long as I have good light. It is very similar to the 90/4.5, but in a smaller and lighter package, which is the only reason I acquired it in the first place.
NIKON NIKKOR W 150/5.6 is, for me, a normal lens. In a 35mm full-frame (35 FF), many photographers think of 52mm as normal, and this lens is closer to 37.5mm, which is where my visual perspective feels comfortable. My chosen fixed-lens digital camera is the Fujifilm x100v, which has a 23mm APS-C lens. The 23mm APS-C Fuji lens equates to ~ 34.5mm in 35 FF, so the 150/5.6 also fits within this range; I'm not surprised.
Here is a publication put out by B&H Photo about large-format lenses. I have referred to it for much information over the years and find it valuable.
# # #

[ EBONY MAGNIFYING LOUPE + FOCUSING BELLOWS + DA YI 6×12 FILM MAGAZINE ]
EBONY FOCUSING LOUPE
An excellent accessory for my eyes is the Ebony Magnifying Loupe. I use it mostly to focus on the ground glass through the focusing bellows and set my 4×5 lenses, as the numbers printed on large format lenses tend to have a small font size, so this is handy to have to hang from my neck during a shoot. It looks like a +2 or +3 close-up filter wrapped in a metal and rubber holder, but the way Ebony designed it to fit inside a leather cover case and lanyard is splendid!
# # #

[ EBONY FOCUSING BELLOWS + LINHOF REFLEX VIEWER ]
FOCUSING BELLOWS
I have disliked dark cloths since my photography school days. Even back then, I acquired a Cambo T-21 viewfinder for my Calumet 4×5 camera. I purchased the original Ebony Focusing Bellows with the Magnifying Loupe but sold the Focusing Bellows with the first RSW, electing to keep the Loupe. Today, my Focusing Bellows are made with carbon fiber frames and are wonderfully dark for someone like me who does not want to put their head under a blanket out in the wild or on the streets in small tourist towns. That could be dangerous, especially if you are an older petite female. If you prefer focusing bellows, you can look on eBay for the seller that makes them.
The nice thing about these carbon fiber bellows is I can fit the top part of the Linhof Reflex Viewer in when I need to see without any light getting in. It gives an upright but reversed image. It travels well, better than the Linhof base, which does not fold and can be bulky.
My favorite 4×5 focusing tool is the Linhof 45 Focusing Bellows. No, I did not pay that ridiculous price, as mine were purchased and used for a whole lot less. They provide total darkness in the bright sunshine of Florida, come with a screw-in loupe for magnifying the focus area, are lightweight, and pack easily in that front pocket of my backpack I never use. I hope to acquire a second set and find a camera fabricator to customize them for my RSW. They are that good for me, but not for everyone. The view is like using a dark cloth, upside down and reversed, which I am more than accustomed to after 35 years of 4×5 shooting. Here is my recent write-up about the Linhof Focusing Bellows with pictures after a fellow photographer requested more info about it (some photos will be updated).
# # #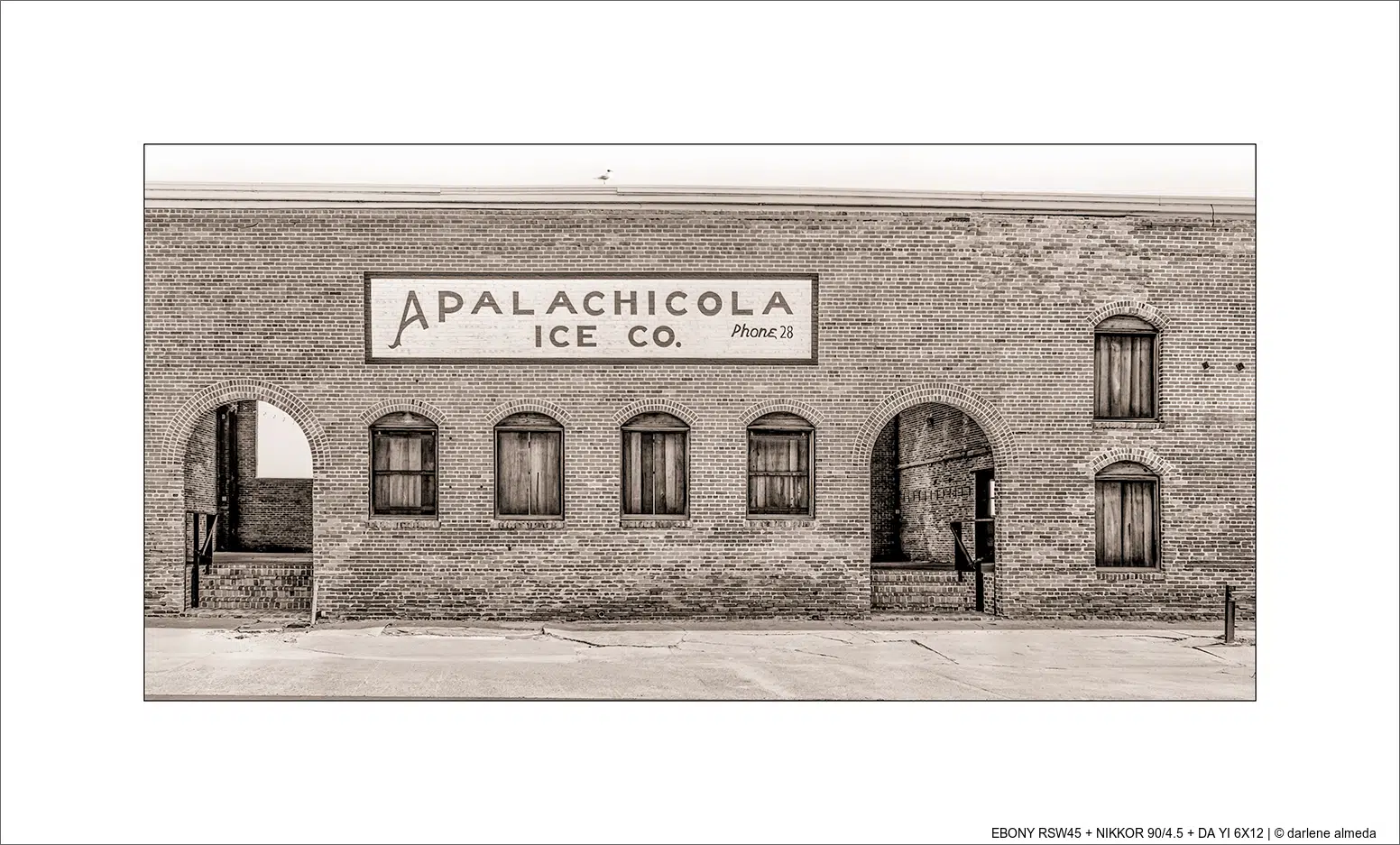 [ EBONY RSW45 + NIKON NIKKOR-SW 90/4.5 + DA YI 6×12 ]
DA YI 6×12 FILM MAGAZINE
I acquired a used Shen Hao Da Yi 6×12 film magazine after realizing the Linhof Rollex 6×12 I used with my Cambo Wide would not fit the RSW. The Limhof 6×12 might weigh as much as the RSW! The Da Yi is robustly built, and loading film is not a problem for me. But the unloading of the film is by far the most difficult I have ever experienced, and I have shot with many different film magazines.
Operation of the back, once loaded, is not difficult. That is if you have experience reading tiny numbers on film-backing paper. Unfortunately, the numbers appear upside down, but this back has no red peephole window, just a slightly grey window. I have a supply of Fujifilm Acros II to shoot with this back, and the numbers on the Acros II paper are written in medium grey, which can be hard to see—it's time to use my loupe on the peephole numbers.
Overall, I am okay with the back, as it produces sharp images; I have to figure out the easiest way to unload it. Once I figure it out, I will be happy with the back and might get a second.
# # #
COMPENDIUM HOOD MADE FOR EBONY CAMERAS
[ COMPENDIUM INSTALLED – 4×4 FILTERS – SYSTEM STORED ]
This is a quality product made from, according to the seller and my observations, two layers of synthetic fiber cloth with a special coating to avoid light leakage; the front & rear frames and connecting standards are made of metal; the rails are carbon fiber, lightweight and excellent quality with too many screws for my usage (more about this below). It connects to the cold shoe with a heavy-duty mechanism made of hardened metal that holds the carbon fiber rail system. It comes with a one-year warranty and was worth the cost and the wait time. I wrote a more detailed article about this hood here. Here is a link to the eBay seller's shop (ecbuyonline2008). Do a store search to see if they are still offering them.
# # #
EBONY REDUCING BACK 45-69

The Ebony Camera Reducing Back 45-69 is unique because it has a small swing-out door with built-in ground glass. You focus on the ground glass, swing out the door, and place your film magazine in the small graflok-type sliding clips. I have used the Horseman 6×7 and 6×9 film magazines with this back with my original RSW. It all worked well while I owned one. I have no plans on owning another back like this, as I shoot 4×5 and 6×12/120 films exclusively on the RSW this time around, and I use a graflok-4×5 film magazine. I have my Hasselblad cameras for shooting my preferred medium format size, 6×6.
# # #