[ MY CAMBO WIDE 650 PANORAMA KIT COMPONENTS ]
CAMBO CAMERAS & GEAR
[ YES ]
Below are listed the CAMBO cameras and other gear I have used with CAMBO cameras:
CAMERAS: Cambo Wide 650, Calumet 45N (made by Cambo)
SCHNEIDER LENSES: Super-Angulon 65/5.6, Symmar-S 210/5.6
DIGITAL BACKS: Hasselblad CFV-50c, Phase One P45
FILM MAGAZINES: Fidelity 4×5, Horseman 6×9, Linhof Techno Rollex 6×12
VIEWFINDERS: Mamiya 58mm Viewfinder, Linhof Techno 65 + 60 x 120 Mask
VIEWING HOODS: Cambo Reflex T-20, Cambo In-Line T-21
LITERATURE AVAILABLE:
CAMBO WIDE:  Cambo Wide Manual (1995-2000), Cambo Wide Manual (1972-1995)
The Calumet 45N with Schneider 210/5.6 was my first 4×5 film setup. I acquired it for product photography in art school. Once I got my feet wet with shooting monorail cameras in the studio, I went with Arca Swiss for many years. My current film pano kit is the Cambo Wide 650 and Linhof Rollex 6×12 back. The beauty of the Cambo Wide is its simplicity and versatility. I can shoot 4×5 and 120 film and stitch with my digital back. This page is dedicated to my experience with the Cambo Wide 650.
###

[ CAMBO WIDE DEPTH COMPARISONS: NO FILM + 4×5 FILM HOLDER + ROLLEX 6×12 MAGAZINE ]
CAMBO WIDE 650 – AN EARLY PANCAKE STYLE 4×5 CAMERA
Suppose you are familiar with and like pancake-style digital cameras such as
ALPA
, Arca Swiss & Cambo. You might find the Cambo Wide line of 4×5 cameras interesting if you want something similar for shooting 4×5 film and 120 rolls in magazines.
I acquired mine for shooting 6×12 panoramics once I realized it would fit my budget. After using the Cambo Wide 650 (CW) for a few years, I appreciate its simplicity and capabilities as a tool in my photography toolbox. I might also enjoy the Linhof Technorama camera system if money was no object, as I find almost anything Linhof appealing except for the weight. Still, money is an object in my budget because shooting 6×12/6×17 is my niche photography. If you are like me and can satisfy your shooting with one lens for pano/landscape shooting, this pancake-style camera may bring you happiness over having to fuss with a 4×5 bellows camera out in the elements.
The graphic above shows side profiles of my CW with the different shooting configurations I use. We can see how the depth of the camera changes with each setup. Image #1 has just the ground glass without its protector installed because I wanted to show the CW with the minor depth and add depth by configuration from there. Image #2 has a standard 4×5 film holder installed, and image #3 has the Linhof Rollex 6×12 magazine installed. The last configuration, with the 6×12 magazine, is how I shoot the CW most of the time, although I recently acquired a lighter-weight Da Yi 6×12 magazine I will try. I occasionally shoot with my P45 digital back, which extends outward, similar to the 6×12 magazine. Still, I rarely shoot with it, but when I do, the CW works just fine after getting a digital back plate that works with infinity focus (see the below article about this).

[ CAMBO WIDE 650 + SK SUPER ANGULON 65/5.6 + LINHOF ROLLEX 6×12 + TECHNAR 65 VF w/60×120 MASK ]
WHAT I LIKE ABOUT THE CAMBO WIDE 650
When I started looking at cameras for panoramic creation, the Linhof 6×12 and 6×17 cameras looked desirable but were out of my budget for such a niche format. I thought I'd prefer the 3:1 view over the 2:1 view, but I am happy with the 2:1. The thought of using my larger image circle Nikkor lenses with a Shen Hao 6×17 field camera excites me, but then I think about all the setup time involved, and I resign to the fact that the Cambo Wide 650 (CW) is working just fine since I have been able to assemble all the parts I need.
I initially wanted a camera with two lenses for my film pano kit. However, I would choose a 65mm perspective if I could only have one lens. The 65mm view satisfies what I want in most grand landscape shots, not being too extreme on the wide side where perspective distortion may occur. Finding the CW was not difficult as the 470 (47mm lens) & 650 (65mm lens) CWs appear to be their most popular formats.
How a camera handles out in the landscape is very important to me. I have shot many cameras in the landscape, with a 4×5 being the most time-consuming, as a 4×5 needs much attention before capturing the picture. Once I find a composition, I must carry the 4×5 pack and tripod to where I want to shoot. Then set it up on the tripod, select and mount the lens, bellows focus, and ensure the darn cable release is where I need it to be. Next, meter, double-check the lens setting and composition, close the aperture and stop down. Then slide the film holder in after it has been loaded with unexposed film at home before leaving for the shoot. And I am finally pulling the trigger, which is the easy part.
The CW makes it easy to shoot 6×12, but there is the inconvenience of being unable to change lenses if you want a longer lens or tilt. No tilting for 6×12 works fine with me, and I have found the 65mm is perfect for what I want to shoot, so there is no need for a longer lens now. The CW does offer a 20mm horizontal shift right and a 20mm horizontal shift left, and vertical shifting when turning the lens in its box mount 90 degrees, as it was designed for this option. I do not shift often, but it is there when I want it, and that is the movement I would want on my pano camera, given a choice. So after using the CW as my 6×12 pano film camera for a few years, I am pretty happy with it.
See the handle on the side of the CW that I wrapped with sports tape? It is a beauty as it takes no time for me to grab the camera out of its case, complete with a 65mm lens ready to shoot, tripod mount it, compose and shoot. Because I chose this camera for shooting 6×12, I use the more economical 120 films. When I want to shoot 4×5, I can do it just as easily, but I prefer my Ebony RSW for 4×5 shooting landscape and travel photography.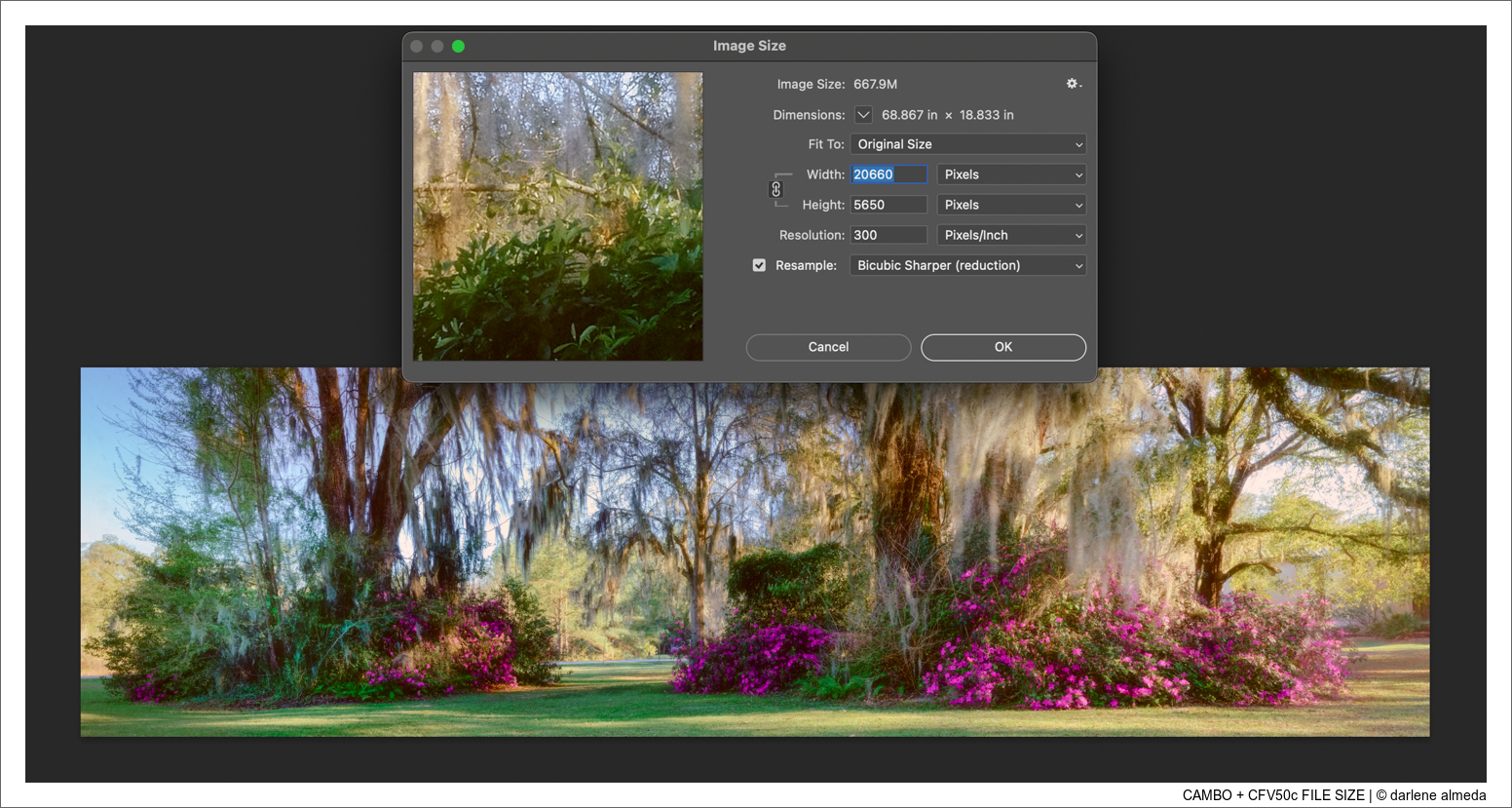 [ CAMBO WIDE + CFV50c FILE SIZE ]
EXAMPLE: SHOOTING WITH A DIGITAL BACK
I can shoot a digital back on the CW and show a digital stitched image above and in the gallery below. The digital panorama image was created during the CW's initial digital test to see if the sensor's plane in the digital back aligned with the CW's film plane. After stitching all the slices together, the image size is 68.867 x 18.833 inches, and the file size is 667.9M! Stitched images look good only if each slice has no movement within its composition. Good luck with no wind or slight breeze out in the landscape; this gives us a valid reason for capturing it all in one frame. If I relied on digital capture and stitching for my landscape photography, I would probably come home disappointed more than half the time. Some of the most incredible landscape images I have seen were captured during not-so-nice weather. It is well-known that weather can add drama to a landscape image, whereas clear skies can display a mood of unremarkable. I appreciate good weather, especially after living through as many hurricanes as I have. However, if you want to create a mood in landscape photography, understand that it can generally be done with mother nature's help.
And speaking of dramatic weather, I can shoot quickly with the CW by hyperfocal focusing. With a typical 4×5, it would take me more time to get everything under control, or I might forget something and screw up. After I received my CW, I ran hyperfocal lens tests in the backyard to see its focusing limits within various apertures. I spend a few months testing cameras, backs, and lenses before I can count on them. I need to set up and shoot like my eyes are closed, a call for muscle memory, if you will. Still, because I spent time learning the CW's limits, it saves me future monies from the wasted film. I found through my testing the CW is the easiest 4×5 format camera I have ever shot; it is a pancake-style camera and operates as such.
Using the CW's graflok back, I can attach and focus using a Fotoman 6×12 viewfinder with built-in ground glass, the brightest ground glass I have seen. Having the 6×12 format already cropped out is a bonus and saves me precious time under certain climatic weather conditions. Now, let's move on to what I would change if I could …

[ CAMBO WIDE 650 IN A RUGGARD DRY CASE ]
WHAT I DISLIKE ABOUT THE CAMBO WIDE 650
The camera is not easy to pack unless you want to break it down by removing the lens from the front, which I do not want to do. Since I have only one lens, it is not too difficult to pack as it fits in a small case with a carry handle, as shown in the above graphic. The
Ruggard Portable Dry Case with Dehumidifier (Black, 9.6L)
(RPDC) fits the Cambo Wide 650 just right. I ordered an open tote to carry the CW case and accessories on location and settled on the
Think Tank Freeway Longhaul 50
(TTFL 50). Because I have been using a Stanley Tool Caddy that I hacked into a
Camera Caddy
for over a decade, I wanted something similar for this setup, but the Stanley Tool Caddy is too small for the CW case. I will update this article with my results after using the TTFL 50 for a few trips (see the following section below).
###

[ CAMBO ROAD KIT: ESSENTIALS & CAMERA IN SACK PACK ]
UPDATE:

CAMBO PANO KIT PACK

The
Think Tank Freeway Longhaul 50
(TTFL 50) did not work out as the Cambo Pano Road Kit pack. Instead, the TTFL 50 is the bag I fill with clothing and kitchenware for my camping trips as it is too large for a camera setup but works just fine for the campervan travels. The Cambo Pano Road Kit fits into the
Porta-Brace Sack Pack
after placing the camera and essentials in two separate cases. I searched for a durable yet lightweight case for all the essential tools outside of the camera within a specific size and found this
case
. Its foam inserts had to be removed to fit everything. Inside the case are all the tools seen in the middle photo in the above graphic, plus their cases that are not shown. The heavy Rollex Techno goes in a
Think Tank Photo Skin 50 v3
, the
Minolta Spotmeter F
in its original case, and the Linhof Techno 65 viewfinder with a 60×120 mask in this
Lowepro small case
. There is room left for 120 films as well. Using two rubber bands, I attach a 4×5 piece of plastic made for my Ebony ground glass on the bottom of the Fotoman 6×12 graflok viewer, and it fits in the case with everything else as pictured above. After placing both cases in the Porta Brace large Sack Pack, it became evident this is the best way to carry the kit. The Sack Pack's durable handles and rugged construction can handle this kit's weight without problems. Although the Cambo 650 is a heavy camera, I enjoy its simple yet versatile design, especially for 6×12 pano photography.
For those that wonder why I am not using a backpack, let me explain. I first tried using a backpack as I find it easier to carry heavy loads with one, but the design of the Cambo 650 is not easy to pack in a backpack because of the size of the camera and the care the lens demands. Taking the lens off may help, but the camera body is significant, with or without the lens. Remember, this is a rugged, constructed diecast aluminum alloy 4×5 camera with ground glass and a sizeable non-removable handle, with the lens adding an awkward size. The backpack I have that could *almost* fit the kit is the Gura Gear Bataflae 26L, but it could not fit everything safely. Jamming pieces of gear into a backpack is not how I care for my gear. I am a petite older woman who found a fully loaded backpack larger than ~ 20L too heavy to travel comfortably. With the kit packed in the uniquely designed (2-door) Bataflae, I still had to carry a separate bag with a few essentials, and the camera had to have a large wrap covering it to protect it from bumps. So eventually, I felt the need to figure something else out, and the Sack Pack with the two lightweight cases holding the camera and essentials is the best thus far. It is still a heavy load that has been made much easier to carry using this cart.
###
Regarding cameras with lens cones instead of bellows, they can be inconvenient to travel with, as the more lenses you carry, the bulkier your pack becomes. Although a one-lens kit is perfect for capturing panoramas, I sometimes get the urge to have a longer lens as well, and that is my biggest dislike, not being able to shoot with a longer lens when I feel like getting closer or smashing the background into the foreground.
In the past, Cambo offered a Cambo Wide 1000 with a Schneider APO-Symmar S 5.6/100mm lens, but it is rare, and I have never seen one for sale. I spoke to someone selling a Cambo Wide 900 (90mm lens), and they said the 90mm vignettes, so I imagine the 100mm does as well. That is vignetting on 4×5 film. I would guess the 6×12 format would not show vignetting because the top and bottom of the 4×5 format are cropped-out when shooting for the 6×12 format. So I am always looking for the Cambo Wide (CW) 100mm lens, but I may have to purchase a complete camera if I ever find one. I wouldn't say I like that idea because the CW is built well and is a little heavy, and I doubt I'd want or need a backup body. That might be a deal breaker for me and lead me to look at another option, like a Shen Hao 6×17 field camera because that is what I'd dream of having if I could.
I shoot 120 films in 6×12 format with the Linhof Rollex magazine. The Rollex is very expensive today, but I acquired mine at less than half of what I see them going for now. I like it better than the Horseman I used decades ago with my Ebony cameras, but it is heavier to carry. I wouldn't say I like the weight of all the components that make up my 6×12 Cambo Wide pano-kit. But I will not trade it away unless something better comes along that I can afford. And that something would be a Shen-Hao 6×17 field camera, but until then, I will enjoy my Cambo Wide 650 and all that it gives me.
###

[ FOTOMAN 6X12 GRAFLOK VIEWFINDER ]
FOTOMAN 6×12 GRAFLOK VIEWFINDER
The Fotoman 6×12 Graflok Viewfinder with Ground Glass is a fantastic viewfinder for making 6×12 panos. It has the brightest ground glass screen I have ever looked through. It does not provide a right-side-up image but is lightweight and precise enough for my needs. In image #1 above, we see the ground glass of the viewfinder with its unique 6×12 window; image #2 shows the viewfinder with Fotoman's name, and the blue tape is where I have fixed a close-up lens onto the viewfinder. I do not know the exact diopter, but it works perfectly for my vision. And finally, image #3 shows the ground glass of the viewfinder with a mask for my P45 crop. I made the mask by placing the digital back plate on my printer's copy glass area and made a copy. Once I cut out the mask, I covered it with clear packing tape to add a bit of strength and durability, and then I cut out the window from the mask using an exacto knife and metal ruler. When I want to shoot with the P45 and the Cambo Wide, it works like a charm. I can also use it as a framing tool when scouting for compositions.
###
[ CAMBO WIDE ACCESSORIES: GROUND GLASS PROTECTOR + TOYO 3.6x LOUPE + CAMBO REFLEX VIEWING HOOD ]
Image #1 above shows a Calumet Protector for 4×5 Ground Glass. This particular protector slides snuggly under the Cambo Wide's ground glass and does what it was designed to do, protect the ground glass. A must-have if you will be transporting the camera and replacing the ground glass often, as I do when switching to the Fotoman 6×12 viewfinder with built-in ground glass. I paid too much for mine, at $100 US, but at the time, they were hard to come by.
In image #2, we have the Toyo 3.6x ground glass viewing loupe. What 4×5″ camera owner doesn't have a similar tool? Seriously, have a loupe available no matter how many viewfinders you may have. I occasionally use this loupe with the Cambo Wide when shooting 4×5″ film even though I do have the Cambo 4×5 Reflex Viewing Hood; read on to see why.
I am a 4×5″ photographer who dislikes using a dark cloth for viewing the ground glass. I experienced this first in photography school as I learned what a dark cloth could do to my hair, even though I always tied it back when working. Then after I decided I wanted to devote my spare time to landscape photography, I learned again it does not work for me, but for a different reason. Because I prefer to shoot alone out in the landscape, this causes me to be on alert. You never know when a wild animal or a snake might come by for a visit or, worst, the two-legged type. My head under a dark cloth seems like having it buried in the sand; it's not the best technique when you need to be alert.
My workaround has always been a viewing hood of some type. I prefer seeing a right-side-up image if possible, although my first viewing hood while a student was the Cambo In-Line Hood. They are hard to find today, and if you like the image right-side-up, that is not your viewing hood. The Cambo Reflex Viewing Hood shown in image #3 above is an excellent viewing hood that provides a right-side-up image that is backward. I first used this hood with my Ebony cameras. They are lightweight and can switch from horizontal to vertical. The only problem with the hood is that I am not always tall enough to be above the viewing window. Here is when I grab the loupe for focusing on the ground glass. I recommend the Cambo Reflex Viewing Hood if you want a dark cloth alternative.
My favorite viewing hood for landscape photography is the Linhof Focusing Bellows (LFC). They came in leather and also in a foam-type cloth, which is what I use. It takes hardly any room in my backpack and works like a charm. It does not give a right-side-up view, but I do not need that for landscape photography; give me a few horizon lines on the ground glass, and I am happy. There is no need to carry the Toyo Loupe with the LFB, as it has a detachable loupe. The LFB gives a bright and sharp image; what more could I want? I wish I had one for the Cambo, but as far as I know, Cambo did not offer one. I have often thought of designing one using a Cambo bellows and loupe since my grandmother taught me how to sew, a skill I have used throughout my life. One of these days, I might make one. Stay tuned. 🙂
###
[ GRAFLOK DIGITAL PLATE ADAPTERS WITH DIFFERENT FOCAL PLANES ]
CAMBO WIDE 650 & DIGITAL BACKS
The plate in the green box above works fine with my Cambo Wide (CW), which I purchased off eBay for use with my P45. However, the plate in the red box made for my Hasselblad digital back does not align with the lens' film plane at infinity. This plate will work on my Linhof and Sinar 4×5 view cameras with bellows focusing just fine.
When I made the color panoramic photo at the bottom of this page, I used my Hasselblad CFV-50c (50c) with the CW. I had no problems focusing, and all the slices went through Lightroom without issues. Then I decided to dedicate my P45 digital back to shooting in the landscape. The P45 does not have Live View (LV), but that is fine, as I often shoot using infinity focus or focus via ground glass with the CW.
The CW has a helical mount Schneider Super-Angulon 65mm 5.6 lens that consistently produces sharp images, whether shooting film or the 50c. But I could not get the lens to focus to infinity when I tried the CFV II 50c (II 50c) before the P45 (taking advantage of its LV and a new digital plate adapter). Hmmm, what was the problem?
The camera did not suffer a fall and recently received a CLA (clean, lubed, adjusted) from my repair guy. So I looked at where the problem might be if it was not a lens issue. That left the focal plane. I concluded it was the new Graflok-style digital plate adapter I bought for the II 50c. When I upgraded from the original 50c to the II 50c, the Linhof plate I used for the 50c would not fit into the prong openings of the II 50c, so I bought a less expensive one off eBay. Here is where the problem exists for anyone that might be having trouble with a helical mount lens not focusing at infinity with a digital back or a film magazine via a Graflok-style adapter plate.
As you can see in the digital plate images, the non-aligning plate joins together two separate plates. Not a good design as it will not align with a fixed film plane camera but will with bellows focusing cameras. Too much distance between the digital back's plane of focus and the CW's film plane. The digital plate that works is hollowed-out enough to equal the fixed film plane and aligns as it should.
###