[ PORTEEN GEAR CAMERA BAGS: SMALL, LARGE, LARGE ]
CUSTOM CAMERA BAGS: Large, Medium & Small
CROSSOVER BAG: Black Leather & Blue Fabric
CAMERA STRAP: Turquoise & Black
ZIPPERED POUCHES: Navy Blue, Sand & Black
Here is where the girl comes out in me, I suppose. I like having a few camera bags that do not look like camera bags. Robyn Porteen of Porteen Gear makes custom camera bags and satisfies my need for unique-looking camera bags. I like picking out the fabric, patterns, colors, and sizes for a few camera bags that hang in the closet when not in use. When a backpack won't do, these bags will. When I need a bag for light travel that does not necessarily look like a camera bag, I grab one of my Porteen Gear bags. All bags are insulated with heavy foam and will hold from a small camera to my Hasselblad three-lens kit (shown below), depending upon size. It was fun designing my (2) large, (1) medium, and (1) small bags. I have used these bags for about seven years and have no complaints. You can find Porteen Gear on their website and Etsy Shop.
###

[ LARGE CAMERA BAG HOLDS MY HASSELBLAD FILM & DIGITAL KIT ]
PORTEEN GEAR LARGE CUSTOM CAMERA BAG
The Porteen Gear large custom-made camera bag pictured above holds my Hasselblad film and digital two-lens kit. Included with the bag was a lovely waxed canvas pouch for cords and small items (not shown). Instead, I use the clear heavy plastic cosmetic bag shown for cords and other bits. I use this type of pouch when I need my small pouch to show what is in it before I open it. I purchased a bunch of clear plastic cosmetics pouches years ago for 99¢ each at Walmart and used them for a lot of small bit items in the studio and backpacks. But I also like the waxed canvas pouch Robyn includes with her larger bags for cords and cables and have purchased additional ones.
We can see the thick foam insulation the bag incorporates between the inside and outside. The bag is surprisingly lightweight, considering all the insulation, and protects my gear well. After acquiring my first bag pictured in the top banner image, the 'olive green with a southwestern trim' bag, Robyn began offering dust flaps that fold into the bag to help keep the elements out, and we see them in the above 'flower power' bag. I enjoy using this bag when I travel to places where I will be among other people, such as in the state gardens in my area. I enjoy photographing at these venues but do not want to look like a professional photographer with expensive gear, and this bag helps me to pull it off.
My 'flower power' bag easily carries my Hasselblad 503 CX with PME 51 viewfinder. I normally carry two lenses, always the 100/3.5 CFi (my normal lens) and either the 60/3.5 CFi or the 180/4 CFi. Which one depends on what I will shoot: for portraits and flowers, I take the 180; for landscapes and architecture, it will be the 60. Also in the bag is the CFV II 50c digital back inside a Stone Photo Gear cloth magazine case. I try to protect the digital back screen without putting a plastic screen on top of it, thus the cloth case. There is an A12 film magazine, cord & bits storage pouch with a shutter release cable, a Hasselblad rapid winder knob, and cleaning cloth inside. I prefer the standard winding knob when I use my CX with this panorama tripod setup. And finally, a pro-pack of 120 Kodak Tri-X. All fit well, with more space available for my keys, phone, and wallet.
###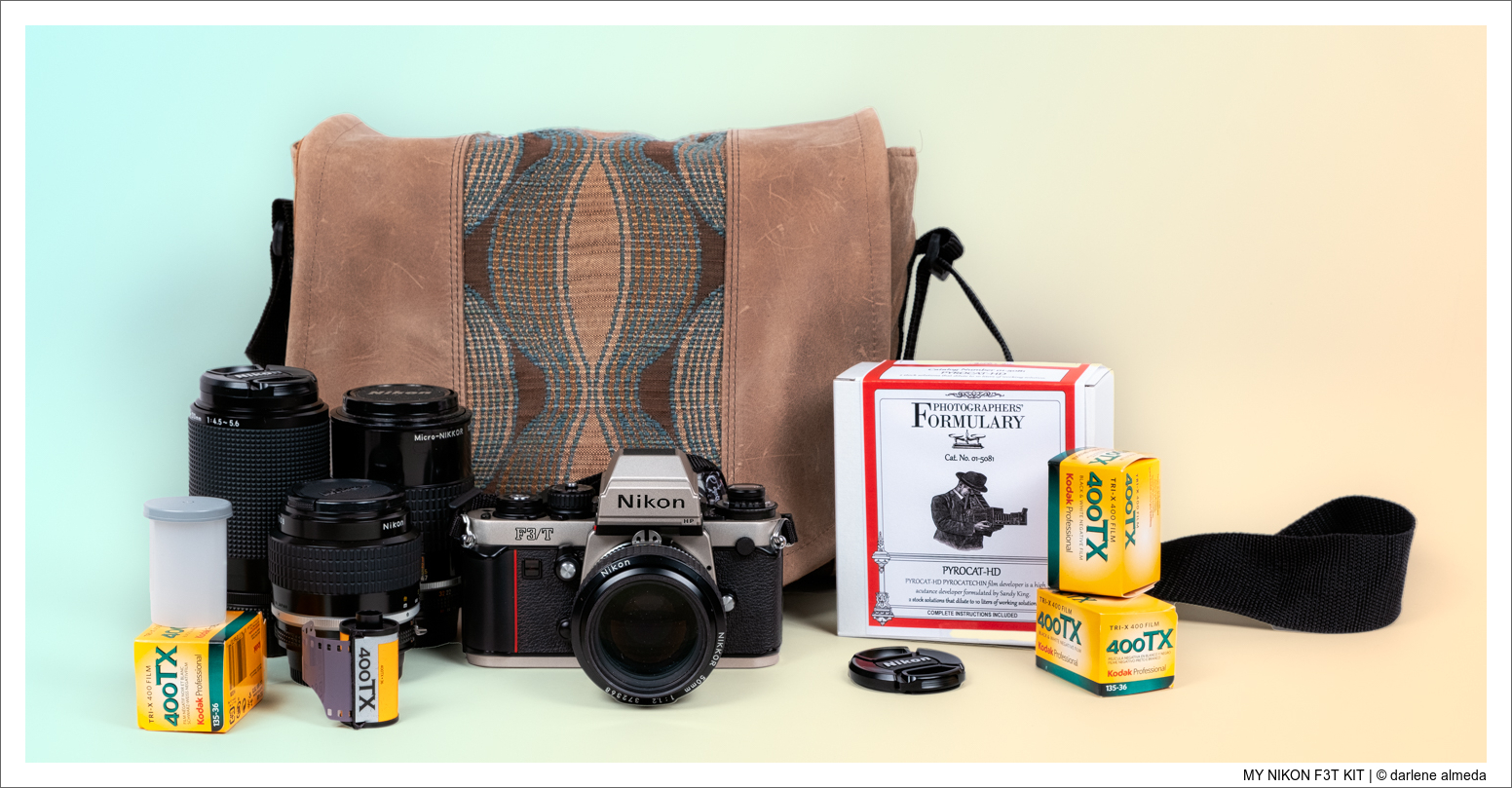 [ PORTEEN GEAR MEDIUM BAG: NIKON F3T KIT ]
PORTEEN GEAR MEDIUM CUSTOM CAMERA BAG
The medium bag shown above holds my Nikon F3 and four lenses. When I designed the looks of the above bag, Robyn had a 'Bag Builder' program on her website where you could pick the leather, cloth, colors, and more to build the look of the bag you wanted. But because of supply demands, she can no longer offer the custom bag building on her site, but you can contact her for customizing options.
Overall I am happy with the quality and selection of Porteen Gear camera bags and accessories. I adore my Crossbody Purse that holds just enough and is comfortable to wear. I recently acquired a custom-made Porteen Gear guitar strap that is comfortable and visually appealing. Because I enjoy Robyn's small zipper pouches included with the larger camera bags, I wanted a few additional ones for my backpacks to hold cords and cables. They are well constructed and the right size to hold what I need to take along on road trips. They hold up well and make access to the contents easy. Check out Porteen Gear, made in Michigan, USA.
###