[ NIKON CAMERAS: 35Ti, F3HP, D200, D700 & D750 ]
NIKON CAMERAS & GEAR

[ YES ]
CAMERAS:
F3HP, F3T, 35Ti, D200, D700, D750
AIS LENSES:
20, 28, 35, 50/1.2, 50/1.4, 85, 105M, 70-210
AF LENSES:
18-200/VR II, 24-120/ ED IF
NIKKOR LF LENSES:
SW 75/4.5, SW 90/4.5, SW 90/8, W 150/5.6, W 210/5.6, M 300/9
NIKKOR FILTERS:
81A, 1A, L38, Y44, R59, Polarizer
Literature Available: Nikon Large Format Lenses Brochure
I have shot with Nikon cameras since the start of my commercial career, beginning with a black F3HP purchased new from the counter at 47th Street Photo in 1985. However, I no longer shoot Nikon DSLRs today because I switched to APS-C mirrorless after they became good enough. My first digital DSLR was the Nikon D200, and my last was the beautiful D700. My instructor's camera was the D750 I selected and used, but it was the college's property where I taught. My film "mommy camera" was the 35Ti, and it served me well, capturing precious memories of my son as he grew up. The 35Ti was small, quick, and precise, with a lens that suited my shooting needs. Even though I no longer shoot digital Nikons, I occasionally shoot an F3/T film camera. This time, Nikon large format lenses were my choice after returning to a large format kit a few years after I left it for medium format digital. I have a few Nikon filters I have used over the years. Here is a key to understanding what Nikon Filters are compared to Kodak filters.
###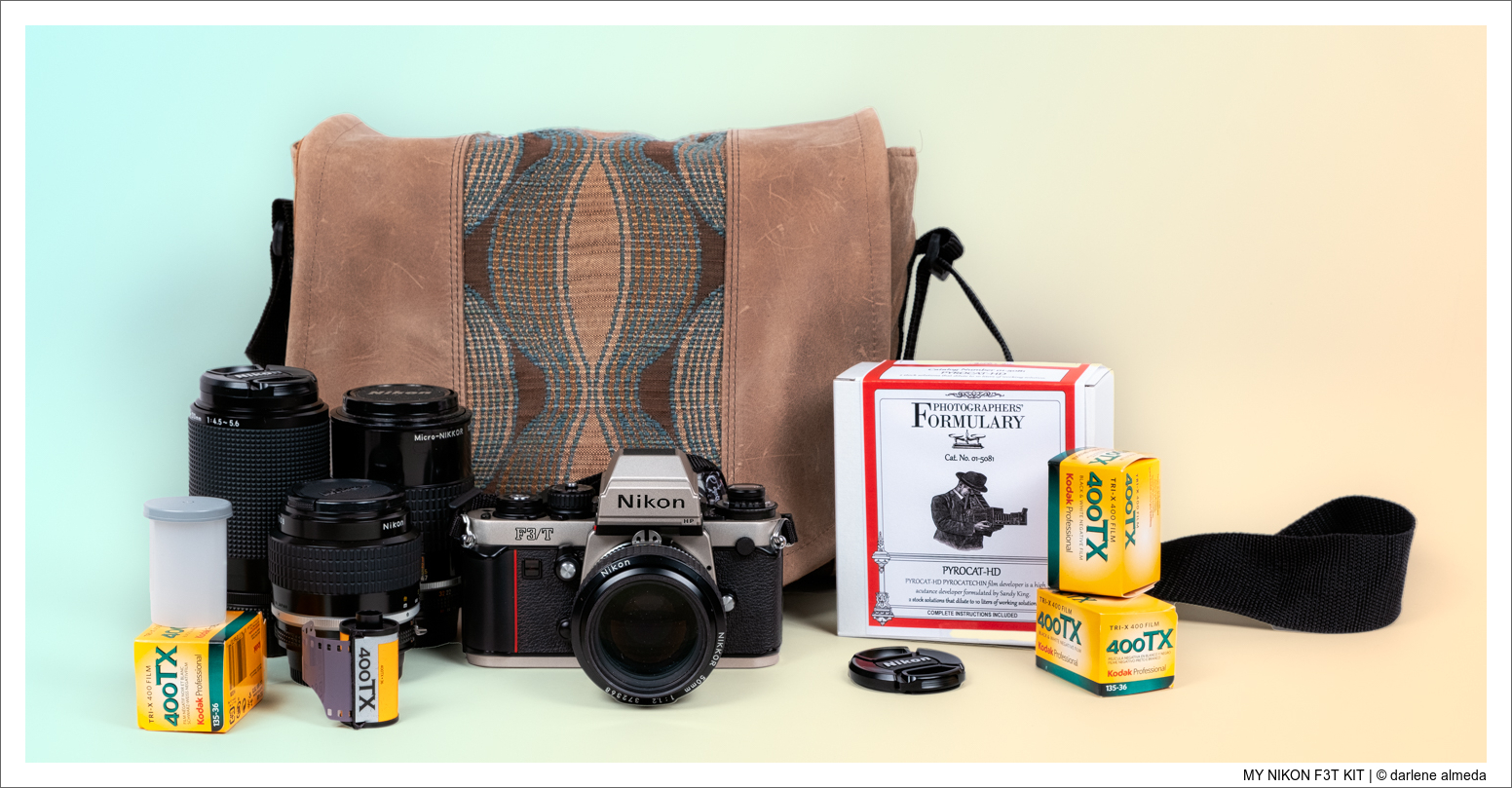 [ NIKON F3/T KIT + PORTEEN CUSTOM BAG ]
The Nikon F3 was a game-changer for me. I learned how to photograph with this camera after owning a Canon AE-1 as my first SLR. I have had more than a few F3 bodies over the years. The only brand new one arrived in 1985 after I made a career change to photography from commercial art. On all my commercial shoots, I had at least one F3 kit lying in wait as a backup to my medium format backup. Today a pristine silver T (Nikon calls them champagne) sits in a custom Porteen Gear bag waiting to be used. I shoot it a few times a year, keeping it because I love and honor its legacy. Nikon DSLRs came and went for me, but what beautiful image color files the Nikon DSLR cameras produced! I switched to Fujifilm once I felt it was good enough to replace the full-frame Nikon, but I miss the Nikon color.
###
NIKON LARGE FORMAT LENSES

[ NIKON LARGE FORMAT KIT LENSES: SW 90/4.5 S + W 150/5.6 S + M 300/9 ]
After medium format digital showed up, I sold off my 4×5 field camera kit to help finance new gear. After a few years, I regretted selling the 4×5 equipment and wanted to build a new kit when possible. In the past, I primarily shot with the German lenses, Schneider and Rodenstock, but now we were in new territory as the manufacturing of Copal shutters ceased. After a bit of research, I realized some of my favorite 4×5 landscape photographers were happy with Nikkor large format lenses, so I decided to give them a try, and glad I did. My 'holy grail trifecta' when shooting landscape and travel photography with my Ebony RSW is the Nikkor SW 75/4.5 S, Nikkor SW 90/4.5 S, and W 150/5.6 S. The Nikkor M 300/9 is set aside for when I travel with my Linhof MT and a few lenses. I also use a Nikkor W 210/5.6 on my Sinar in the studio for product shooting.
After years of shooting a Rodenstock Grandagon 90/4.5 with an Ebony 4×5, I knew I wanted to stay with f/4.5 with the Nikkor SW 90 because I did not want to deal with focusing issues or struggle with darkened corners on the ground glass. I found the SW 90/4.5 S for a fair price in excellent condition from an eBay seller, and I could not be happier. My SW 90 delivers sharp images, provides enough light to see while focusing, and arrived in a heavy-duty recessed lensboard. The W 150/5.6 S is small enough to stay on my Linhof MT when closed, which is convenient. The M 300/9 replaced my Docter 240/9 because I wanted the 90-150-300 range, and I am glad to have it in my kit.
I recently acquired a Da Yi 6×17 panorama film camera and chose the Nikkor SW 90/8 S for its lens after using it with my Ebony RSW for about six months. It was an important choice because the lens cones for the Da Yi are expensive and take a couple of months for delivery. I made the decision for this lens because the Nikkor SW 90 lenses which I have both, are superb for contrast and sharpness. Because the 4×5 camera requires the best corner brightness for focusing, it was the 90/8 I decided for 6×17 use. Shooting mostly under a bright Florida sun makes shooting an f/8 lens not so difficult.
Even though Nikon ended up taking a back seat to my digital needs, I am very happy it is my lens maker of choice for shooting 4×5″ and 6×17 these days.
###