[ TAMRAC LENS CASES + HASSELBLAD 50C II + BATTERIES IN CASE #MX5341 ]
TAMRAC LENS CASES

[ YES ]
LENS CASES:

  MX5341, MX5347, MX5375, MX5378, MX5380, more.
I am pretty set regarding backpacks and gear, and Tamrac makes the best lens cases for what I need. Over the years, I have learned what works for me when lugging gear into the landscape. Many bigger and stronger photographers can pack a large backpack and go with it, but not me, as I am a petite female and require a smaller bag. The Think Tank Retrospective 15 (20-liter) backpack is large enough to carry just what I need and small enough to ensure I did not overpack. What I need the Retrospective to take is one system. An example is my Hasselblad three-lens system with one camera body, film or digital back, viewfinder, and accessories. Even though the Retrospective 15 has rear access, I prefer to go through the top of the pack to get what I want, and this is where the Tamrac lens cases outdo other manufacturers' lens cases.
###

[ HASSELBLAD KIT IN RETROSPECTIVE 15 + TAMRAC & STONE PHOTO CASES ]
In the above photo, we see my Hasselblad three-lens kit. The (#2) Tamrac lens cases fit snugly in a row at the bottom of the pack. Next, the (#3) Pro shade lays across the top of the 60 and 100 lenses, making a shelf for the (#1) blue case holding the camera body, magazine, and viewfinder. Then the (#5) cord & tool bag is placed in the front pocket's zippered compartment, and finally, the (#6) film and (#4) Lee filter case is in the front pocket above the Retrospective's rain shield. The pack is not too heavy, is comfortable to wear, and is not unwieldy.
Whatever backpack I use, the first thing I do is remove the manufacturer's inside dividers. I place them in a bag, seal them up and write where they came from so that later down the road, if I decide it is time to move the backpack to the used market, I will place the new dividers inside for the next owner. I want an empty pack that I can fill with gear protected in its case. Something as simple as a handle, as shown on the top of the Tamrac cases, made the difference between my lens case preferences. When I reach into my Retrospective backpack, I want to grab the handle on top of the gear case to pull it out. I was surprised how many lens case manufacturers do not include a handle on top of their cases.
###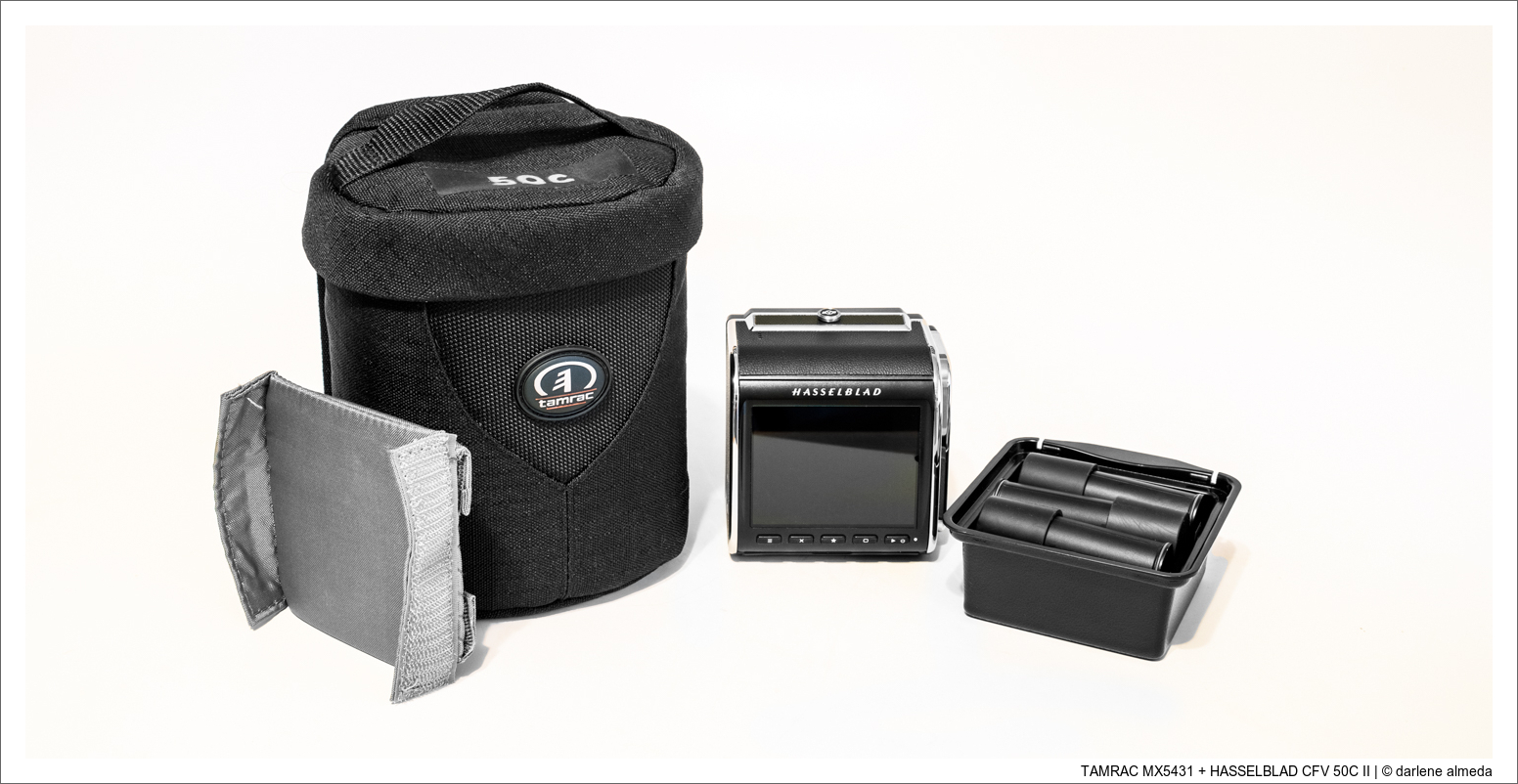 [ TAMRAC MX5431 + HASSELBLAD CFV 50C II ]
Lens cases are not just for lenses. I use lens cases to protect my Fujifilm X-Pro3 and XE2 camera bodies, and my ALPA SK 35/5.6 lens, mounted on a square box, goes into a Tamrac case, as well as my Linhof Multi-Format Viewfinder. When I wanted a case to fit my Hasselblad digital back and extra batteries for road trips, I looked at what Tamrac lens cases offered. I found the Tamrac MX5431 lens case supports my Hasselblad digital back and batteries when it goes into my Retrospective pack very well after I made modifications. I use an ALPA rear lens cover to fit three batteries into the bottom of the case. Then I took two Think Tank bag dividers, placed foam board between them, and sewed them together to make a sturdy divider between the digital back and the batteries. It fits securely in the MX5431 and is easy to grab from the backpack via the top handle. Tamrac offers a generous selection of cases that helps me stow my gear the way I want.
###